EXCLUSIVE: French company also unveils first deals on Jean-Claude Brisseau's erotic 3D drama Tempting Devils.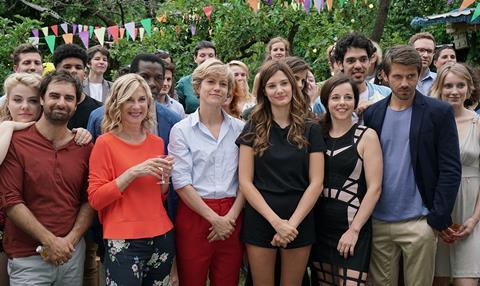 Paris-based genre specialist WTFilms has taken on international sales of mainstream, same-sex romantic comedy Kiss Me! (Embrasse Moi!) in which the protagonist falls for a woman with 76 ex-girlfriends and a crazy family.
The company will kick-off sales on the title, which is in post-production, at the Unifrance Rendez-vous with French Cinema this week.
French stand-up comedian Océanerosemarie – best known for her one woman show La Lesbienne Invisible – makes her directorial and big screen debut in the film.
She plays a happy-go-lucky osteopath who falls for the beautiful Cécile, an artist who has taken a personal vow of celibacy after a series of failed relationships.
Alice Pol plays Cécile. The actress's other recent credits include Dany Boon's latest comedy Raid Special Unit (Raid Dingue) in which she co-stars as a hopeless special police force recruit. That film is screening at the Rendez-vous.
Océanerosemarie co-wrote and directed Kiss Me! – which shot in Paris over the summer — with Cyprien Vial, whose solo credits include the cross-culture drama Young Tiger (Bébé Tigre).
It is produced by Nolita Cinema and will be distributed in France by Haut et Court.
"Océanerosemarie is a rising star of the stand-up scene who we think belongs to that generation that can reinvigorate French romantic comedy, especially through a same-sex romance angle," commented WTFilms co-chief Grégory Chambet.
The involvement of Vial, Pol, Nolita and Haut et Court had also drawn WTFilms to the project, he said.
Tempting Devils sales
In other WTFilms news, Chambet also unveiled a handful of first deals on Jean-Claude Brisseau's 3D tale of "love and transgression" Tempting Devils (Que Le Diable Nous Emporte) on the back of first footage shown at the AFM last year.
It has sold to Japan (At Entertainment), Germany (Alamode Film), Taiwan (Moviecloud) and Scandinavia (Njuta Films)
Fabienne Babe plays a woman who finds a cell-phone on a train containing a series of intriguing erotic messages. When she reunites the phone with its owner — a liberated, young woman — the two embark on an erotic journey. Other cast members include Anna Sigalevitch, Fabrice Deville, Jean-Christophe Bouvet.
Chambet says the work marks "a new chapter in Brisseau's filmography" which includes titles such as Locarno Golden Leopard winning The Girl From Nowhere, Secret Things and Exterminating Angels.
"It reveals new faces and talents and a more positive, brighter and lighter view of life and sex. It is also a master's attempt at using 3D in an erotic arthouse feature," he commented.
Other titles on the WTFilms Rendez-vous slate include Patrick Mille's Rio-set, hen party comedy with a murderous twist, Going to Brazil; Sébastien Marnier's Fatal Attraction-style thriller Faultless and Thomas Kruithof's political thriller The Eavesdropper, starring François Cluzet, which made a strong theatrical opening in France today (Jan 11).