Dirs: Mike Brett, Steve Jamison. UK. 2014. 92mins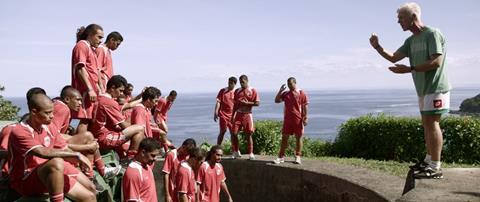 With the football (soccer to our American friends) World Cup looming this summer, Next Goal Wins proves to be a charming and intoxicating sports documentary as it follows the brave and stoical attempt by American Samoa's national team to break the worse losing record in the history of the international game.
A thoroughly enjoyable film.
After its world premiere at the Tribeca Film Festival the film, directed by Mike Brett and Steve Jamison, opens in the UK and Japan later this month, aiming to tap into the end of season football awareness in the run up to the World Cup, being staged in Brazil in June.
The lovely thing about Next Goal Wins is its cast of delightful underdog characters, and even if you aren't a football fan the film clicks just in terms of the notion of these downtrodden footballers aiming to end their dreadful run. Plus the sun-kissed South Pacific locations help give the film an added appeal.
The team is made up of part-time players, who train hard but are rather haunted by the team's history – they lost by the staggering score of 31-0 to Australia in 2001 in a qualifying match for the 2002 World Cup and have the simple ambition to win just one game for a change of pace after 17 years of defeats.
They are loaned coach Thomas Rongen, a Dutch professional who sets about shouting a lot and trying to train his group of players into a team they may win a game.
Amongst the players is Jaiyah Saelua, who was biologically born a man but lives as a woman and sees herself as Fa'afafine, a member of Samoa's third gender. Saelua becomes one of the star players of the team, with the film making a great deal of Saelua's growth as both a player and personality.
Other players include captain Liatama Amisone Jr., who teaches math at the local high-school; Rawlston Masaniai, American-born but whose Samoan grandparent qualifies him to play for the side and the retired Seattle-based goalkeeper Nicky Salapu, who decides to play again in an attempt to cap his career with something to remember.
It is clear from that start that this is a feel-good documentary, and while the ending is pretty easy to guess, the directors do a great job of keeping things so amusing and even exciting at times that it is easy forgive the tear-jerking sentimentality of the football finale. A thoroughly enjoyable film.
Production companies: An Agile Films, Archer's Mark production
International sales: K5 International, www.k5international.com
Producers: Kristian Brodie, Mike Brett, Steve Jamison
Executive producers: Myles Payne, David Staniland
Cinematography: Steve Jamison
Editor: Julian Quantrill
Music: Roger Goula
With: Thomas Rongen, Nicky Salapu, Jaiyah Saelua, Ramin Ott, Liatama Amisone Jr., Shalom Luani, Rawlston Masaniai, Gail Rongen