Pierre Jolivet's France-Belgium co-production The Night Watchman won best feature in the Golden Goblet competition of this year's Shanghai International Film Festival (June 13-21), while Cao Baoping's The Dead End won best director and actor.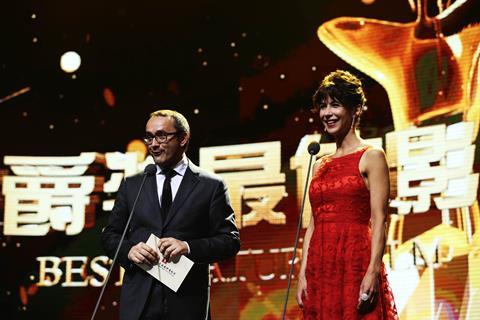 The acting prize for The Dead End was split between Deng Chao, Duan Yihong and Guo Tao. The Jury Grad Prix went to Polish filmmaker Jacek Lusinski's Carte Blanche, while best actress went to Krista Kosonen in Antti Jokinen' Finland-Lithuania co-production The Midwife (see full list of winners below)
Russian director Andrey Zvyagintsev headed the Golden Goblet jury, which also included Chinese director Cai Shangjun, Chinese actress Hao Lei, French filmmaker Philippe Muyl, Hong Kong producer Nansun Shi and US producer Ron Yerxa.
Last Thursday, Iranian filmmaker Hooman Seyedi's 13 won best film and cinematography at the Asian New Talent Awards. Best director went to Japan's Momoko Ando for 0.5mm, while best actress went to Tibet's Yangchen Lhamo for River. Best actor went to Taiwan's Sean Huang for (Sex) Appeal.
The festival, which had a special focus on "Asia, China and New Talent" this year, screened 391 films 1,275 times in 45 movie theaters across Shanghai, reaching an audience of more than 300,000. Ticket sales reached $2.9m (RMB18m).
SIFF 2015 GOLDEN GOBLET WINNERS
Award for Best Feature Film
The Night Watchman (France/Belgium), directed by Pierre Jolivet
Jury Grand Prix
Carte Blanche (Poland), directed by Jacek Lusinski
Award for Best Director
Cao Baoping for The Dead End (China)
Award for Best Actor
Deng Chao, Duan Yihong and Guo Tao for The Dead End (China)
Award for Best Actress
Krista Kosonen in The Midwife (Finland/Lithuania), directed by Antti Jokinen
Award for Best Screenplay
Patrick Tobin for Cake (US), directed by Daniel Barnz
Award for Best Cinematography
Vladislav Opeliyants for Sunstroke (Russia), directed by Nikita Mikhalkov
Award for Outstanding Artistic Achievement
The Shameless (Korea), directed by Oh Seung-uk
Award for Best Animated Film
Song Of The Sea (Ireland/Belgium/Denmark/France/Luxembourg), directed by Tomm Moore
Award for Best Documentary Film
The Verse Of Us (China) directed by Wu Feiyue and Qin Xiaoyu