Dir: Andre Singer. UK-US-Israel. 2014. 75mins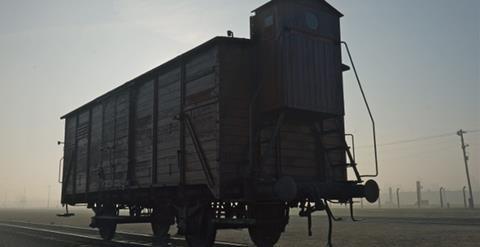 A remarkable and often harrowing documentary that interweaves horrific footage of Allied Forces liberating Nazi concentration camps in 1944-45 with a Hollywood twist involving Alfred Hitchcock and Billy Wilder, Night Will Fall is a must-see documentary likely to feature strongly on the festival circuit as well as benefit from a series of high-profile platform releases.
It is a striking, moving, challenging and often quite harrowing film.
The film, which screened as a low-key work-in-progress at Berlin and subsequently at Sheffield DocFest and the Jerusalem Film Festival, recounts the fascinating story of cameramen resolutely documenting the terrible discoveries that were made at the camps, with the subsequent footage eventually caught up in post-War political machinations.
British and American newsreel cameramen were hot on the heels of soldiers liberating a series of camps and the Ministry of Information's Sidney Bernstein (later founder of Granada Television) planned to create a documentary – also incorporating Russian footage - that would provide lasting, undeniable evidence of the Nazis' crimes and providing a film that would be intended to show Germans as proof of what had happened.
The film material was shipped backed to the UK and Bernstein recruited a host of British talent, including editor Stewart McAllister (who worked with documentary maker Humphrey Jennings), writer and (future cabinet minister) Richard Crossman – and, as treatment advisor - his friend Alfred Hitchcock. When his Hollywood schedule permitted, Hitchcock returned to England to refine the treatment.
Yet, despite initial support from the British and US Governments, the film was shelved due to political machinations, while even Billy Wilder was brought on board to construct film – the 22 minute Death Mills - that used much of the original material. But within six months of having been greenlit, the British and American governments withdrew support for the film and it was consigned, incomplete, to the archives of the Imperial War Museum. It is only now, 70 years on, has it been restored and is beautifully expanded thanks to contemporary interviews with some of the technicians – cameramen and editors – who worked on the project.
It is a striking, moving, challenging and often quite harrowing film, elegantly assembled by André Singer (executive producer of the award-winning The Act Of Killing) that blends original archive footage and eyewitness testimonies. Nicely shot by Richard Blanshard and edited together by Arik Leibovitch and Stephen Miller, it is a tough watch at times, but is an important (as well an intriguing document of wartime cameramen) film is always absorbing and powerful.
Production companies: Angel TV, RatPac Entertainment, Spring Films, Channel 4, MDR/ARTE, NDR, DR, BFI, Rabinovich Foundation for the Arts, DFI, Channel 8, Keshet-TV
International sales: Cinephil, www.cinephil.co.il
Producers: Brett Ratner, Sally Angel
Executive producers: Stephen Frears, James Packer, Richard Melman
Co-producers: Philippa Kowarsky, Signe Byrge Sørensen
Screenplay: Lynette Singer
Cinematography: Richard Blanshard
Editors: Arik Leibovitch, Stephen Miller
Music: Nicholas Singer