Dir: Elisa Fuksas. Italy. 2012. 78mins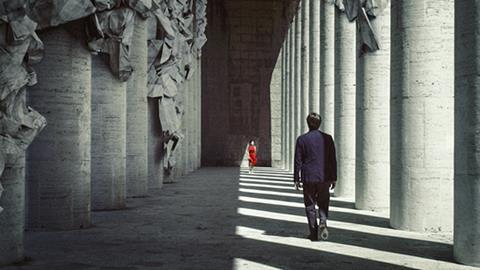 The contemporary architecture of Rome – rather than the traditionally seen Roman viaducts and amphitheatres – are at the heart of the beautifully shot and winsomely appealing Nina, which charts the oddball escapades of a young woman in a depopulated Rome during one hot summer.
Nina is an artfully elegant and sweetly playful film.
The film is a playfully familiar story of a young woman drifting through life as she tries to find some sort of direction, but debut director Elisa Fuksas – a trained architect and daughter of famed Italian architects Massimiliano and Doriana Fuksas – shoots with a real eye for structure and shape, making this Roman holiday interlude an enjoyable and often heart-warming tale. The film had its world premiere in competition at the Tokyo International Film Festival.
Nina (Diane Fleri, who starred in My Brother Is An Only Child and I Am Love) has plans to go to China and is learning calligraphy, but most of her time is spent pet-sitting for a wealthy person who has left Rome for the summer.
In a plush apartment she looks after an aquarium of fish, a hamster and a dog, and while she seems to embrace her time alone in the city – taking the dog for walks, zooming around on her yellow scooter, sitting alone in cafes or jogging through the empty streets – there is a sense she is looking for more from her life.
Challenges to her existence come in the form of Ettore (Luigi Catani), a young boy who lives in the building, seems to act as a kind of caretaker and attaches himself to her; bearded cellist Fabrizio (Luca Marinelli) who playfully sets her challenges, and Professor De Luca (Ernesto Mahieux) who teaches her calligraphy.
Nina glides through the empty streets, gently growing in confidence and embracing what life throws at her. She buys cakes for six people to satisfy her sweet tooth and while romance with Fabrizio is hinted at, her summer idyll is engagingly chaste. The film was shot in the Roman district of EUR, south of the city centre, where its large modernist buildings and wide streets make for a glorious cinematic backdrop.
With beautiful cinematography from Michele D'Attanasio and a charming performance from Diane Fleri (an infectious smile, short hair and a lust for eating) Nina is an artfully elegant and sweetly playful film.
Production companies: Magda Film, Paco Cinematografica
Sales contact: Magda Film, info@magdafilm.net
Producers: Silvia Patrizia Innocenzi, Giovanni Saulini
Screenplay: Elisa Fuksas, Valia Santella
Cinematography: Michele D'Attanasio
Editors: Eleonora Cao, Natalie Cristiani
Production designer: Carmine Guarino
Music: Andrea Mariano
Main cast: Diane Fleri, Luca Marinelli, Andrea Bosca, Ernesto Mahieux, Luigi Catani