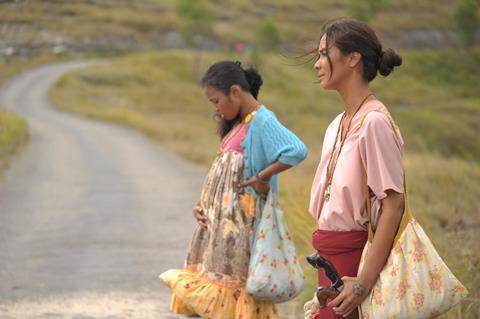 Toronto-based Raven Banner's specialty distribution label Northern Banner has acquired Canadian rights to Mouly Surya's Contemporary World Cinema entry Marlina The Murderer In Four Acts.
The film premiered in Cannes Director's Fortnight and receives its North American premiere in Toronto on Tuesday.
Marlina The Murderer In Four Acts takes place in the deserted hills of an Indonesian island where Marlina, a young widow, is attacked and robbed for her cattle.
She kills several gang-members in self-defence and embarks on the long road to revenge, haunted by the ghost of one of her victims. Rama Adi co-wrote the screenplay with Surya.
Northern Banner managing partners Michael Paszt and James Fler negotiated the deal with Anne-Sophie Lehec of sales agent Asian Shadows.
"Mouly Surya has created an exceptional film with a feminist heroine that seems to defy description and we are looking forward to bringing it to Canadian theatres," Paszt said.
Adi and Fauzan Zidni produced the Indonesia-France-Malaysia-Thailand co-production from Cinesurya, Kaninga Pictures, Shasha & Co Production, Astro Shaw, and HOOQ Originals, Purin Pictures. Willawati, Najwa Abu Bakar and Peter Bithos served as executive producers.
Northern Banner plans to release the film in early 2018 once it has completed the Canadian festival circuit.
The specialty distributor's recent slate includes Kevan Funk's Hello Destroyer, The Happiest Day In The Life Of Olli Mäki, Mimosas, and Embrace Of The Serpent.