Dirs: Jason Cortlund, Julia Halperin. US-Poland. 2012. 93mins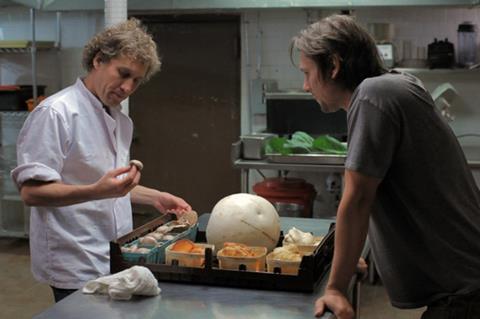 Mushrooms, food and romance collide in Jason Cortlund and Julia Halperin's modestly charming indie debut Now, Forager: A Film About Love And Fungi. Not a great deal dramatic happens, but it is nicely shot with the rural foraging scenes quite charming and the languid pace a welcome change from overly edited films.
Tiffany Esteb is a charming and thoughtful presence.
The story the slow decline in a married couple's relationship – simply about two people gradually drawing apart, without malice or acrimony – it set alongside some tasty culinary sequences. The film is refreshing in that it lacks the usual romantic-drama need for dramatic intensity, instead relying on subtle performances and uncluttered dialogue.
Married couple Lucien (co-director/scripter Jason Cortlund) and Regina (Tiffany Esteb) Echevarria get up early to scour woods for mushrooms and try and sell them to Manhattan restaurants. Lucien loves the hand-to-mouth lifestyle and is planning various road trips to search for other mushrooms, but Regina is increasingly worried about finance and thinks they should take on more full-time work.
Things start to fall apart for them when she is offered work as a prep cook at an octopus restaurant ran by Mas (Almex Lee). As she says to Lucien, "We have no margin for error…no insurance…we need more stability". While she goes to work at the restaurant, he heads away to look for more mushrooms, but is eventually forced to take a catering job when cash runs out.
This leads to the film's amusing highpoint as he finds himself working as caterer for upper class April (Gabrielle Maisels) and trying to please her foodie fads. Meanwhile Regina see an opportunity to move up the catering ladder and gets a job at a Rhode Island Basque diner (the couple are of Basque origin), which sounds great but is too mainstream for her.
Tiffany Esteb is a charming and thoughtful presence though Jason Cortlund tends to weigh the film down with a certain inertness and lack of expression, let alone passion. The film is nicely shot – with the close-ups for mushrooms an unlikely highlight – and has the right indie sensibilities to appeal to film festivals and distribs who favour quirky indie fare.
Production companies: Small Drama, Monternia.Pl productions
International sales: New Europe Film Sales, www.neweuropefilmsales.com
Producers: Julia Halperin, Kit Bland
Screenplay: Jason Cortlund.
Cinematography: Jonathan Nastasi
Editor: Julia Halperin
Music: Chris Brokaw
Production designer: Jason Cortlund, Julia Halperin
Website: www.nowforager.com
Main cast: Jason Cortlund, Tiffany Esteb, Gabrielle Maisels, Almex Lee, Jason Howard