David Sabel and Robin Lough, executive producer and director, respectively, of the National Theatre Live talk to Screen about the latest NT Live season and the challenges of filming live theatre.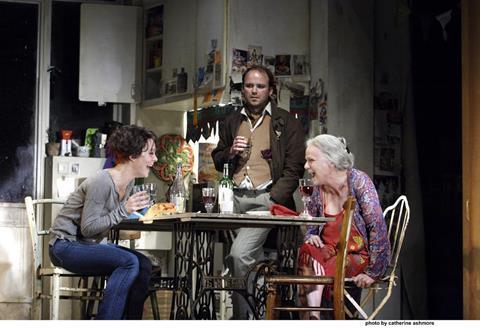 Last week saw the second production of National Theatre Live's fourth season and for the ever-expanding programme, which sees the National Theatre stream a live performance to over 600 cinemas worldwide including 250 in the UK alone, it marked a new high.
Screen was fortunate enough to be at the National Theatre for the special performance of Stephen Beresford's excellent debut play The Last of the Haussmans [pictured] which saw the Lyttleton Theatre in the NT adapted into something akin to a TV show recording, cameras lining up along the front of the stage with screens to the left and right.
Starring the irresistible Julie Walters on wonderfully foul-mouthed form as an idealistic hippy who reunites with her two children (played by Rory Kinnear, soon to be seen in Skyfall, and Helen McCrory) following a cancer scare, Haussmans saw over 45,000 people attend the live streams in cinemas across the UK, with a further 18,000 people watching internationally, once encore broadcasts are factored in.
Not bad for an initiative that was originally only set to be broadcast to around 50 cinemas in the UK.
"We encountered scepticism about how it would work because most people, and I mean myself included, believe that theatre when it's filmed becomes very static, very deadening and it's so the antithesis of the art form," recalls David Sabel, executive producer, NT Live. "[NT Live] has just grown and one of the things that's exciting to see is that a real strong area has been in film societies, village halls and smaller town independent arthouse cinemas who have been able to raise the funds to invest in a digital projector and a satellite installation. So all of a sudden, the opportunity to reach these very remote places has grown massively."
Inspired by the Metropolitan Opera's live broadcasts in New York and having spent a year planning the pilot season, including coming up with a model which ensured there'd be a royalty share with the various artists involved if it went into profit, NT Live launched in 2009 with a live stream of Phèdre which, thanks to the star power of Helen Mirren, ended up screening on 73 cinemas in the UK.
Now in its fourth season, Sabel notes that there has been a bolder approach to the programming of each NT Live season when it comes to which of the year's 26-27 National Theatre productions to include. "We do always try and include the bigger shows partly as we know that there's always an element of risk and shows that have that kind of talent attached will be able to attract the largest audience," comments Sabel. "However, I think we've gotten to a point now that we are broadcasting shows that we'd never have done in the first season because we would have thought they'd be too risky, and now the distribution is wide enough and the NT Live audience seems to be loyal enough that we can take a risk."
Whatever show they choose though, each production brings its own challenges as to how best to capture the aesthetic of the stage play and transmit that as close as possible to cinemas, as it would feel sitting in the stalls. Using a multi-camera set-up, usually involving around five or six cameras for NT Live, there is a long preparation process that often begins as early as the final run-through in the rehearsal room, allowing the multi-camera director to assess the layout of the play and discuss with the stage director how best to capture it.
"It will quickly become apparent how many cameras are needed and whether or not any special equipment is required like camera dollies for tracking shots or a camera crane for vertical movement or a high-angle viewpoint," explains Robin Lough, director, NT Live. "The multi-camera director then sits down with a copy of the script and begins to write his 'camera script'. This involves choosing the framing and duration of each shot, including any movement required, and then assigning that shot to a speech, a line or simply a word or a facial reaction."
Generally, NT Live streams won't feature the audience, except if the production calls for audience participation, with the live aspect underlined with the streams opening with shots of the theatre audience arriving. Yet, alongside the shots that the cameramen are given from the 'camera script', some cinematic values are added to a stream. "A crane shot or a gentle track can greatly enhance the drama as long as it is done subtly. The cinema audience should always feel totally engaged with the stage production without ever noticing how the transformation to screen is taking place," notes Lough.
And with the NT Live in its fourth season, thoughts turn to how to further improve the live experience but 3D isn't an option according to Lough. "To film in 3D would require the stage director to think about the way he stages his productions in a way that could work against the interests of the theatre audience. As Nicholas Hytner [artistic director of the National Theatre] always tells his actors before an NT Live relay 'we're filming a stage performance, not making a movie'. It is a crucial distinction."
Given that more than 60,000 people will have seen Haussmans, it's a distinction that hasn't affected NT Live's popularity in cinemas and having set a new record, is there a chance that the NT Live brand could extend further?
"Part of the reason why we were attracted to this concept in the first place is that it is live and even when it's not live, it still has a residue of being live," says Sabel. "Our lives are becoming more and more about on-demand and having content when you want it, and NT Live is the reverse of that because it is about getting back to the core of what the theatrical experience is about, which is gathering with a group of people and experiencing something in one time and place.
"There's no doubt we've built up a great library of content and I'm sure at some point, we'll want to open up access to it but it's a step further away from the initial concept which is still a big change for the artists we're working with. One of the things the actors in particular are supportive of, is that this is a shared experience on the big screen which is very different to being able to pause at home and make a cup of tea."
Encore broadcasts of The Last of the Haussmans take place over the coming week, with the third production of NT Live's fourth season, Timon of Athens, taking place on Nov 1. For full details, visit NT Live's website.
All NT Live photos - Ludo des Cognets; Haussmans still - Catherine Ashmore