Dir/scr: Nghiem-Minh Nguyen Vo. Vietnam. 2014. 98mins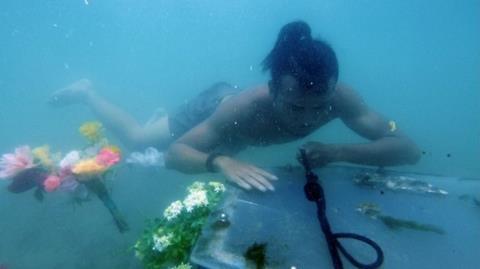 In Nuoc 2030, the imminent inundation of Vietnam is the underpinning of a near-future science fiction drama. Logistically ambitious, sometimes elegant, it reminds you that good intentions and impending cataclysm don't always add up to a stirring movie.
As the love triangle and the landscape are poised for a crescendo, the conflicts driving the plot are as muddy as the water submerging everything.
Nghiem-Minh Nguyen Vo's soggy tale (based on the short story Nuoc Nhu Nuoc Mat by Nguyen Ngoc Tu), which he describes as the first science fiction movie made in Vietnam, is short on science and long on tortured romance. A novelty, given the director's background as an engineer and physicist, it should sail its way through the art-oriented festival circuit, but it never finds a drama as urgent as the environmental crisis at its core.
If its radiant lead, Quynh Hoa, has an international career, Nuoc 2030 could have a shelf life. If not, it will join the long list of forgotten disaster films.
Nuoc 2030 is set at a moment when the water level has overtaken much of southern Vietnam, where locals who haven't fled fish for dwindling marine life, and vegetables, in rare supply for lack of land, are consumed like drugs.
Sao (Quynh Hoa) struggles in her life with companion Thi (Thach Kim Long), as they abandon their stilt house on a vast bay filled with windmills and rimmed by distant high-rises. Thi takes a job with the new industry of floating farms that grow toxic crops, and turns up dead. As we flash back to Sao's earlier life, Thi's killing and the eroding environment come into closer focus.
Nghiem-Minh Nguyen Vo begins his film with the dilemma of rising waters as a couple hoping to sell its tiny garden of cilantro fights an inevitability that they can't possibly control, a myth of Sisyphus in which cinematographer Bao Nguyen mixes nautical lyricism with the tactility of sheer saturation.
There's a tautness to their everyday plight, stymied as it is by their circumstances, yet Nghiem's drama loses that tension as Sao re-encounters Giang (Quy Binh), Sao's lover from a decade before, now a researcher managing a corrupt conglomerate's floating farms. Inexplicably, music floods a story where the dominant soundtrack had been the wind raking across the bay. As the love triangle and the landscape are poised for a crescendo, the conflicts driving the plot are as muddy as the water submerging everything.
Quynh Hoa gives the character of Sao a stoicism befitting years at the mercy of men and the elements. Her companion Thi (Thach Kim Long), the film's early casualty, is a gaunt weathered man worn down by destiny, like a character in a story about the American dustbowl.
All the cast is at the mercy of Nghiem-Minh Nguyen Vo's flat script, which leaves them unmoored and in the wind. Yet another side to that shortcoming gives the film a special credibility. Not dependent on a sudden calamity like the hurricanes Katrina or Sandy, or the Asian tsunamis, which engulfed and destroyed seaside communities overnight, the hardship of Nuoc 2030 operates according to climate change predictions. The oceans here rose gradually just as scientists and Al Gore warned they would in An Inconvenient Truth. That near future, in clear view of a modern city on the horizon in Nuoc 2030, is indeed getting closer.
Production companies: Saigon Media, Green Snapper Productions, Alfred P. Sloan Foundation
International sales: Premium Films, www.premium-films.com
Producers: Nghiem-Minh Nguyen Vo, Bao Nguyen
Executive producers: Dang Tam Chanh, Nguyen The Thanh
Cinematography: Bao Nguyen
Production Designer: Truong, Trung Dao
Music: Inouk Desmers
Main cast: Quỳnh Hoa, Quý Binh, Thạch Kim Long, Hoang Phi, Hong Trần Minh Duc