Directors Chanya Button, Adrian Sitaru, Xavier Seron scoop prizes; festival reveals works in progress winners.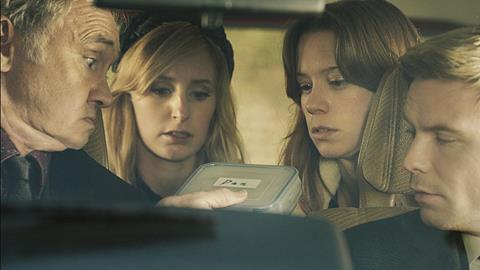 UK filmmaker Chanya Button's debut feature as director and producer, Burn Burn Burn, was voted by the audience at the Odessa International Film Festival (OIFF) as the winner of this year's Grand Prix.
Producer Daniel-Konrad Cooper accepted the Golden Duke statuette on behalf of the production team from OIFF's festival president Victoria Tigipko during the gala closing ceremony in the Black Sea city's historic National Academic Theater of Opera and Ballet.
Button's melancholic comedy had premiered at last year's London Film Festival and is being handled internationally by Urban Distribution International.
International Competition
Meanwhile, the International Competition jury - headed by the UK writer Christopher Hampton and also including OIFF 2015 winner Eva Neymann, US writer-director-actor Alex Ross Perry, producer Rebecca O'Brien and producer-director Uberto Pasolini - gave the Golden Duke statuette for Best Film to Romanian filmmaker Adrian Sitaru's incest drama Illegitimate, while Belgium's Xavier Seron was named Best Director for Death By Death.
The Golden Duke for Best Acting was shared by Rosalie Thomass and Kaori Momoi for their performances in Doris Dörrie's From Fukushima With Love, with the jury also handing out special mentions to Léa Fehner's Ogres and Argyris Papadimitropoulos' Suntan.
The closing ceremony also saw Hampton himself being presented with a Golden Duke Lifetime Achievement Award.
National Competition
Taras Tkachenko's The Nest Of The Turtledove received the Golden Duke for Best Ukrainian Feature Film from the four-person jury of Sofia International Film Festival's Mira Staleva, Israeli actress Shani Klein, Russian writer-director Mikhail Segal and Ukrainian director-DoP Valentyn Vasyanovych.
The Ukrainian-Italian co-production had been presented at OIFF's 'Work in Progress' showcase two years ago and had also competed in the festival's International Competition as the only Ukrainian entry.
Valeriia Kalchenko and Antonio Lukich's It Was Showering In Manchester picked up the Duke for Best Ukrainian Short, while eyebrows were raised at the jury's decision to give the statuette for the Best Acting Performance in the National Competition to The Tribe's Myroslav Slaboshpytskyi for his acting debut in Olena Demyanenko's My Grandmother Fanny Kaplan.
Slaboshpytskyi, whose performance as Vladimir Lenin's brother Dmitriy Ulyanov will apparently be dubbed with another actor's voice, was unable to attend the awards ceremony at the weekend as he is currently shooting another stage of his next feature project, the neo-Noir film Luxembourg, in Chernobyl.
In addition, a three-person FIPRESCI jury named Iurii Hrytsyna's Varta 1, Lviv, Ukraine the Best Ukrainian Feature and Irina Tsilyk's Home as Best Ukrainian Short.
European Documentary Competition
This year's new competition section dedicated to European documentaries was judged by a jury comprising the Dutch-based documentary doyenne Rada Sesic, Docudays UA directo Gennadiy Kofman, and the esteemed Russian documentary filmmaker Marina Razbezhkina, which presented its Golden Duke for Best European Documentary to Charles Redon's first feature documentary In California, with a special mention given to Zosja Rodkevich's feature debut My Friend Boris Nemtsov about the assassinated Russian opposition leader.
Film Industry Office's awards
The fifth edition of OIFF's four-day industry platform ended with awards being handed out to projects presented in the Film Industry Office's Pitching and 'Work in Progress' showcases.
The Pitching's international jury including Global Screen/Cinepool's Thomas Weymar, French producer Guillaume de Seille and the Georgian National Film Centre's Tamara Tatishvili picked Alisa Kovalenko's documentary Home Games as Best Project and Lubomir Levitski's adventure mystery thriller Egregor as Best Presentation.
Kovalenko was joined on stage for her pitch by her French-born producer-journalist Stephane Siohan and co-producer Maxym Vasyanovych (The Tribe) and announced that the project had received support from the IDFA Bertha Fund.
The story about the challenges facing a young woman footballer had previously won a £5,000 grant from UK newspaper The Guardian at the DocuDays UA festival in Kiev last March as part of 'The Guardian comes to Ukraine' competition.
Budgeted at €3m, Levitski's latest feature project sees him reunited with producer Serge Lavrenyuk after they worked together on his last film Selfieparty, and one of his previous credits is the 2006 horror film The Pit as Lubomir Kobylchuk.
Works in progress
Meanwhile, the 'Work in progress' jury comprising sales agents Virginie Devesa, Gabor Greiner and Laurent Danielou, distributor Boris Shulman and producer Evgeny Gindilis, gave its Best Project award to Alisa Pavlovska's social drama 5 Therapia based on the novels of the ex-addict and ex-criminal Stas Dombrovskyi who found out that he had AIDS at the age of 17.
Producer Valeriy Kalmykov of Odessa-based Trueman Production revealed during the presentation that Russia's Ant!pode Sales + Distribution will be handling international sales for the project which only cost $3,300, just $300 more than its prize of $3,000 worth of flights with Ukrainian International Airlines.
The jury judged that the best presentation was given by producer Ivanna Diadiura for Crimean Tatar filmmaker Akhtem Seitablayev's Her Heart based on the true story of a young Crimean Tatar woman who saved 88 Jewish children from the Nazis and then from Stalin's order of forced deportation.
Diadiura explained that the €1m production which features actors from Ukraine, Georgia, Germany and Russia, would be shooting until the end of July and had to locate to Georgia as the production was not able to shoot on the Crimean peninsula following the annexation by Russia.
Seitablayev had come to wider international recognition in 2013 with his last feature Khaytarma about Stalin's deportation of the Crimean Tatars in May 1944, which won Russia's Nika Award for Best Film of CIS and Baltic countries in 2014.
This year's line-up of 11 'works in progress' also included Simon Mozgovyi's documentary dramedy The Winter Garden's Tale, which was one of the winners of 'The Guardian comes to Ukraine' competition and will premiere at the 2017 edition of DocuDays UA next March, as well as Yuri Kovalyov's adventure fantasy, time travel film The Stronghold, to be released by B & H Film in Ukraine on 22 December, 2016.
The 7th edition of the Odessa International Film Festival (15-23 July, 2016) presented 114 films from 34 countries, and played host to such international guests as Christian Petzold, Peter Webber, producers Marek Rosenbaum, Dumitru Marian and Raymond Van Der Kaaij, Connecting Cottbus' director Rebekka Garrido, the Nipkow Programme's managing director Petra Weissenburger, Medienboard Berlin-Brandenburg's Brigitta Manthey, the European Commission's Dag Asbjornsen, FIPRESCI president Alin Tasciyan, and actors André Marcon and Jean-Jacques Rausin