Dir: Mathieu Amalric. France. 2010. 111mins.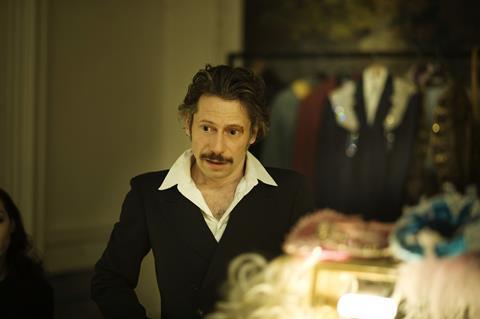 The clothes must come off and the show must go on in On Tour, Mathieu Amalric's tribute to the art of American burlesque. Working with a troupe of real-life performers, Amalric evokes the retro world of fans and tassels in this story of a down-at-heel producer who finds esprit de corps in a troupe of visiting American strippers.

Melancholy and meandering, this drama with comic touches doesn't live up to the brassiness misleadingly promised in the neon-styled opening credits, and viewers expecting feelgood raunch may be disappointed by the tone of
For all its relaxed idiosyncrasy, On Tour doesn't suggest as strong a personality behind the camera as in front of it, and Amalric's appeal as a director - this is his fourth feature - is yet to prove itself commercially.
The increasing mainstream prominence of burlesque culture - with its promise of unthreatening risqueness - should make the film a moderate pull for art-house buyers.
But his own engaging lead performance will certainly be a selling point, especially since his profile - once strictly art-house - has received a mainstream boost from roles in Quantum of Solace and Luc Besson's high-profile The Extraordinary Adventures Of Adèle Blanc-Sec. And the increasing mainstream prominence of burlesque culture - with its promise of unthreatening risqueness - should make the film a moderate pull for art-house buyers.

Amalric plays Joachim, a TV producer who left France for the US and has returned under a cloud. He has now reinvented himself as an impresario, organising a French tour for a troupe of American burlesque dancers to whom he half-heartedly tries to play Svengali.
About half the film is devoted to episodes in which he tries to get his life together - to get favours off now hostile old acquaintances, or look after his two unimpressed young sons (winningly played by Simon and Joseph Roth). The other half involves sequences with an improvised, semi-documentary feel, in which the dancers pass time backstage and do a little tourism - these scenes mixing a faint Frederick Wiseman edge with a touch of John Cassavetes (whose strip-joint-set drama Killing of a Chinese Bookie is clearly an major influence).

We also get brief excerpts from the burlesque acts themselves, which are more tease than strip - some of them livening things up considerably, especially a rather poetic act with a giant balloon. The troupe's male member Roky Roulette also contributes a very jolly Louis Quatorze skit.
The film relies heavily on the personalities of the dancers, all playing themselves, but not all of them are compelling enough to generate drama. Likeably relaxed though the divas are, the film shows that brassy, Fellini-esque exteriors can be a front for rather everyday characters. Some desultory backstage chat about loneliness and female empowerment proves mundane, and there are few real insights either into the dancers as people or into the increasingly popular 'new burlesque' phenomenon, with its arty ironic trimmings.
The troupe's real personalities are Roky Roulette, aka Alexander Craven, his rough-hewn doofus persona suggesting he takes little too seriously. The other is Mimi le Meaux (alias Miranda Colclasure) whose brassy retro-platinum exterior gradually softens to reveal a warm, humorous and vulnerable personality that increasingly provides the emotional cement for the narrative.
But Amalric increasingly seems more fascinated in Joachim - and the acting opportunity that he offers - than by the troupe. Quite how Joachim has earned so much undying hatred is never clear. But, starting from the sequence where he gets the bum's rush from an old friend (film-maker Damien Odoul) to the misfiring comic scene where he infuriates a supermarket checkout woman, we never quite know whether Joachim is genuinely abrasive or just unlucky.
Amalric can never quite play down his own oddly child-like likeability, despite his efforts to emphasise Joachim's air of sleaziness, what with his velvet suits and ratty moustache. Neither are we sure how seriously or ironically Amalric takes Joachim's sentimental streak, which reaches a nadir when he makes a microphone speech to the troupe.
A continuous theme suggests that On Tour is partly about France's fantasy relationship with the US, but this largely remains in the background. The film's Americana content, however, is engagingly worked out both in the dancers' outrageous stage costumes, and use of a largely US retro soundtrack - notably The Sonics' Have Love Will Travel - plus classy self-penned contributions by resident chanteuse Kitten on the Keys.
Visually the film is assured, with DoP Christophe Beaucarne bringing a clean-cut but atmospheric realism to the film's locations, notably some desolate backwaters along France's Northern and Western coasts and - in a haunting final stretch - an abandoned seaside hotel.

Production company: Les Films Du Poisson
French distribution: Le Pacte
International sales: Le Pacte, +33 (0)1 44 69 59 59
Screenplay: Mathieu Amalric, Marcello Novais Teles, Philippe Di Folco, Raphaëlle Valbrune
Producers: Laetitia Gonzlaez, Yaël Fogiel
Cinematography: Christophe Beaucarne
Editor: Annette Dutertre
Production designe: Stéphane Taillasson
Main Cast: Mathieu Amalric, Mimi Le Meaux, Julie Atlas Muz, Evie Lovelle, Dirty Martini