Dir/scr: Nicolas Winding Refn. Denmark-France. 2013. 90mins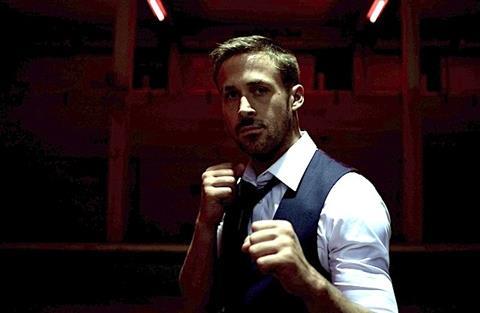 A mesmerisingly moody and stylishly violent crime drama, Nicolas Winding Refn's film fairly drips with tangible menace and a pervading sense of dread, and while perhaps too bloody to attract substantial mainstream audiences (or young fans of star Ryan Gosling) its sheer sense of cinematic control, gripping sound design and its artistic look will find willing viewers who buy into its sheer elegance and razor-edge drama.
Only God Forgives is very much an existential crime thriller, with the characters never fully explained or explored as they carry towards violent encounters.
After Refn's success in Cannes two years ago with Drive, any new film from him in competition would always be a tough follow-up, and with its slow-moving structure, emphasis on style and design and its focus on unflinching violence, Only God Forgives is a film that will polarise and divide audiences.
The slow-moving camera shots, portentous atmosphere, mannered and graceful performances and astonishingly vibrant production design all combine to make the film a darkly immersive experience, but the intermittent violence – especially in a grim torture sequence – is a tough watch for some. At the same time, the core storyline – about God, family and honour – is familiar and relatively slight, with the directorial verve rather than dialogue or story driving the film to its dreamlike conclusion.
In his director's note in the film's production notes Nicolas Winding Refn writes:"…we must not forget that the second enemy of creativity, after having 'good taste', is being safe." And with Only God Forgives he has made a film that is certainly not in good taste, nor can it be called safe in any way at all.
The backdrop of the film is Bangkok, where sleek but clearly tormented Julian (Gosling) runs a Thai boxing club, though this also acts as a front for a family drug business. His brother Billy (Tom Burke) savagely murders a young prostitute, and is in turn brutally killed by the girl's father at the urging of mysterious policeman Chang (Vithaya Pansringarm), who pursues his own version of justice in amidst the brothels and fight clubs.
His mother Crystal (Kristin Scott Thomas, sporting long-blonde hair), who heads the family drug empire, arrives in Bangkok demanding revenge, not just on the man who killed Billy, but on Chang as well. When it is pointed out by Julian that Billy raped and killed a 16 year-old, she simply replies: "I'm sure he had his reasons." This is not a woman who will take no for an answer.
Against Julian's advice, she hires hitmen to take out Chang, but when the killing fails and her contact gorily tortured it is clear that Chang will be pursuing her next. She turns to Julian as the only person left to stand up to the sword-wielding Chang, with the scene set for a showdown as the two men try to live up to their sense of commitment to family and perverted honour.
Only God Forgives is very much an existential crime thriller, with the characters never fully explained or explored as they carry towards violent encounters. If Chang is a vengeful God character (his expression rarely changes as he veers between tenderly talking to his young daughter or drawing his sword from behind his back for yet another act of violence) then Julian is a man looking for answers and caught up in a world he is not at ease in, yet also locked into a complex and twisted sense of loyalty to his mother.
If Refn's Drive reveled in its sense of pace and purpose, then his new film embraces a slower – but equally graceful – style, with the camera tracking artfully through ornately decorated darkened rooms or over wet, glistening, Bangkok streets. Ryan Gosling is – as he was in Drive – an enigmatic but elegant figure, and seems to shimmer through the film, while Kristin Scott Thomas has a fine old time as the vampish mother, and while her waspish line delivery is perfect for the role she is oddly incongruous as a brittle blonde.
For many, it will be hard to look beyond the explicit violence and rather thinly drawn plot and characters, but there is much to enjoy and appreciate in the sheer cinematic verve, intelligence and elegance that makes Only God Forgives an immersive and brutally intriguing film.
Production companies: Space Rocket Nation, Motel Movies Productions, Bold Films
International sales: Wild Bunch, www.wildbunch.biz / Gaumont, www.gaumont.fr
Producers: Nicolas Winding Refn, Lene Borglum, Sidonie Dumas, Vincent Maraval
Associate producer:s Ryan Gosling, Christophe Riandee, Brahim Chioua, Tom Quinn, Jason Janego, Michael Litvak, David Lancaster, Gary Michael Walters, Matthew Read, Thor Sigurjonsson, Yves Chevalier
Cinematography: Larry Smith
Editor: Matthew Newman
Production designer: Beth Mickle
Music: Cliff Martinez
Main cast: Ryan Gosling, Kristin Scott Thomas, Vithaya Pansringarm, Ratha Phongam, Gordon Brown, Tom Burke