Dir: Stiles White. US. 2014. 89mins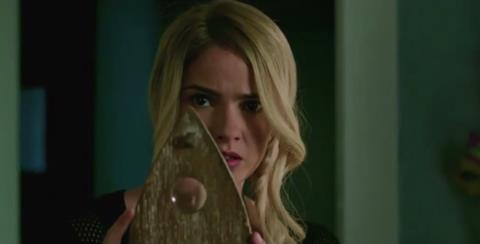 Ouija boards have been around for more than 120 years, so maybe it's no surprise that the movie based on what is now marketed as a Hasbro game feels flimsy and old fashioned. Delivering only a modest supply of shocks and chills, this low-budget supernatural thriller, produced by Michael Bay and horror-meister Jason Blum, will certainly turn a profit at the box office but probably not enough of one to give Hasbro – home of the G. I. Joe and Transformers toys – another big-screen franchise.
First time director Stiles White produces some mildly creepy moments and images but nothing really original or startling.
Benefiting from a lack of horror competition in the run-up to Halloween, the Universal-distributed teen-targeted ghost yarn should make a strong start at the US box office when it opens wide, with a PG-13 rating, on October 24. How it holds up domestically – and during an international roll-out that begins before Halloween in some territories – could be another matter.
The UK's Olivia Cooke (from Bates Motel) stars as high schooler Laine, who struggles to come to terms with the apparent suicide of her childhood friend – and Ouija playing partner – Debbie (Shelley Hennig, from Teen Wolf). Laine persuades her younger sister Sara (Ana Coto, from TV's Disconnected), her best friend Isabelle (Bianca Santos, from The Fosters), her boyfriend Trevor (Daren Kagasoff, from The Secret Life of the American Teenager) and Debbie's beau Pete (Douglas Smith, from Percy Jackson: Sea of Monsters) to try the spirit board again for answers. But instead of Debbie they reach DZ, the spirit of a little girl whose wildly dysfunctional family used to live in Debbie's house.
First time director Stiles White, who also wrote the script with regular partner Juliet Snowden (the two previously scripted The Possession and Knowing), lets the film start slowly but the cast doesn't do a particularly convincing job as grieving schoolmates.
Once Laine and the gang take on the task of laying DZ and some other angry spirits to rest White produces some mildly creepy moments and images but nothing really original or startling.
Production companies: Platinum Dunes, Blumhouse Productions, Hasbro Studios
International distribution: Universal Pictures
Producers: Michael Bay, Andrew Form, Brad Fuller, Jason Blum, Bennett Schneir
Executive producers: Juliet Snowden, Couper Samuelson, Jeanette Volturno-Brill, Brian Goldner, Stephen Davis
Screenplay: Juliet Snowden & Stiles White
Cinematography: David Emmerichs
Production designer: Barry Robison
Editor: Ken Blackwell
Music: Anton Sanko
Website: www.ouijamovie.com
Main cast: Olivia Cooke, Daren Kagasoff, Douglas Smith, Bianca Santos, Shelley Hennig, Ana Coto, Lin Shaye