Dir: Sacha Bennett. UK. 2012. 101mins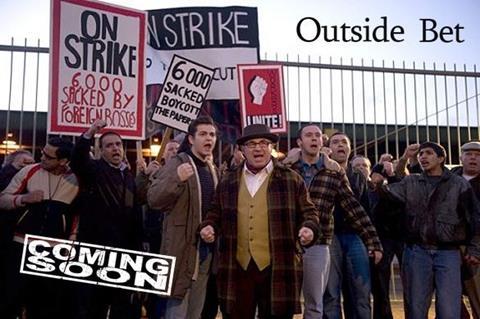 An ambitious change of pace for director Sacha Bennett after modest crime thrillers Tu£sday and Bonded By Blood, Outside Bet makes a plucky attempt to rekindle the warm glow of old Ealing comedies. The cast of British stalwarts and the cozy nostalgia of the 1980s setting leaves the film feeling very much like a holiday special of a British television perennial from the period especially Only Fools And Horses and Minder.
The film lacks the dramatic bite or comic invention to make the story feel distinctive or especially cinematic.
Theatrical prospects in the UK are marginal, although the familiar cast might lend it more allure in ancillary markets. Internationally, it is unlikely to be a runner.
Based on the novel The Mumper, Outside Bet is largely set in 1985 where Mark "Bax" Baxter (Calum McNab) is witnessing a Britain in the middle of seismic social changes. Government clashes with the unions are felt close at home among his fellow print workers who thought their profession guaranteed a job for life.
Redundancy beckons, his ailing father Threads (Phil Davis) is hospitalised and the notion of putting together a syndicate to buy a racehorse becomes just the thing to lift everyone's weary spirits.
Set mostly around the The Horseshoe pub and the racetrack, Outside Bet is populated by dodgy geezers and oldtimers with hearts of gold. Flashbacks reveal Bax's entry into the print trade and his father's fondly remembered past as a pub singer.
Calum McNab is personable as clean-cut schemer Bax and is surrounded by a collection of Runyonesque characters played by British actors who span the generations from recent BAFTA winner Adam Deacon to 1960s veterans like Dudley Sutton and Rita Tushingham. None of them are given a great deal to do but it is nice to have them around.
Adhering to a sentimental feel good formula, the film lacks the dramatic bite or comic invention to make the story feel distinctive or especially cinematic. The humour is strained and repetitive with characters treading in horse manure almost as often as they gather to sing Pick Yourself Up. Even the do or die final race fails to raise the temperature and a soundtrack of period pop tracks only underlines the blandly undemanding nature of the venture.
Production companies: Gateway Films, Talent Films
Producers: Carolyn Bennett, Tony Humphreys, Terry Stone
Sales contact: Gateway Films, www.gateway-films.com
Screenplay: Nigel Smith, based on the novel The Mumper by Mark Baxter and Paolo Hewitt
Cinematography: Nic Lawson
Editor: Kate Evans
Production designer: Matthew Button
Music: Greg Hatwell
Main cast: Bob Hoskins, Jenny Agutter, Phil Davis, Calum McNab, Adam Deacon, Rita Tushingham, Dudley Sutton, Jason Maza, Terry Stone