Dir: Sophie Fiennes: UK-Holland. 2010. 105mins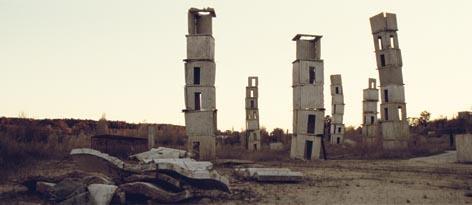 Sophie Fiennes' mesmeric and absorbing documentary about German artist Anselm Kiefer and the installations and paintings he worked on and displays at La Ribaute, a derelict silk factory near Bajac in France, is a fascinating look at the creative process.
Shot in cinemascope, the Over Your Cities Grass Will Grow was filmed in Kiefer's last days at La Ribaute before his move to Paris, where he now lives and works. The film weaves through his set piece landscape which combine a network of underground tunnels; pavilions built to house specific art works, and a series of concrete towers.
Over Your Cities Grass Will Grow is likely to see life on the festival circuit and will attract attention from arts TV channels, though it is also easy to see how it might feature as a screening installation at art galleries.

The film opens and closes with slow and beautifully structured shots of the sprawling series of installations, making impressive use of stirring music from Jorg Widmann, and Gyorgy Ligeti.
These sequences book-end unobtrusive observation of Kiefer at work as he - and his team - smelt lead; smash glass; throw ash and excavate soil to create his work and use electric hoists to move his often gigantic art pieces into place. He is a bold and charismatic artist - fiercely intellectual in terms of how he describes his inspirations, but also practical when it comes to the physical process of making his art.
Scenes of him painting and then scattering ash onto a large canvas of a treeline are absorbing and are counterbalanced with him smelting lead and pouring it onto a pile of earth to create a sculpture.
Sophie Fiennes, who has carved out an impressive niche in the arts documentary field (she has films on dance and linked with radical thinker Slavoj Zizek for 2006's The Pervert's Guide To Cinema), directs with a good deal of style, and is aided by beautiful widescreen cinematography from Remko Schnorr.

Production companies Amoeba Film, Kassander, Sciapode
International sales S
Producers Sophie Fiennes, Kees Kasander, Emilie Blezat
Cinematography Remko Schnorr
Editor Ethel Shepherd
Website www.overyourcities.com