Disney's 3D prequel scores $5.5m (£3.7m) debut to comfortably land at number one.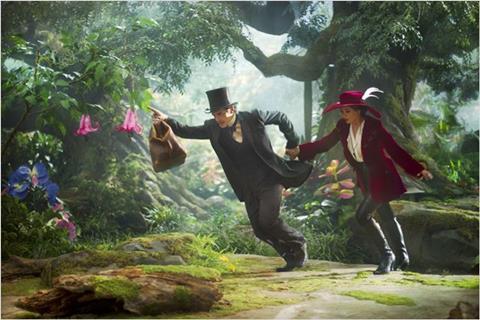 Oz the Great and Powerful has followed the yellow brick road to the top of the UK box office, dethroning Paramount's Hansel & Gretel: Witch Hunters after just one week.
Disney's 3D prequel to L. Frank Baum's novel The Wonderful Wizard of Oz (which inspired the much-loved 1939 film The Wizard of Oz) scored a $5.5m (£3.7m) debut from its 530 sites, a debut ahead of the likes of Mirror Mirror ($3.6m/£2.4m) yet behind Tim Burton's Alice in Wonderland which recorded a mammoth $15.7m (£10.6m) opening in March 2010.
In terms of other efforts from director Sam Raimi, Oz's debut was some way behind the first instalment of his Spider-Man trilogy which opened with $14.1m (£9.1m) and unsurprisingly ahead of his previous directorial outing, horror Drag Me to Hell which scared up $2.8m (£1.9m).
Also for Disney, Wreck-It Ralph is up to a strong $31.9m (£21.4m) following a $1.1m (£741,539) fifth weekend.
The week's second highest new entry came in the form of Steven Soderbergh's alleged final feature Side Effects which recorded a sturdy $1.3m (£900,127) debut from its 350 sites through eOne to chart second.
In terms of recent Soderbergh efforts, Side Effects does however fall behind the likes of Haywire ($1.8m/£1.2m), Contagion ($2.2m/£1.5m) and Magic Mike ($4m/£2.7m). It's worth noting though that all of those opened on more sites, with Magic Mike receiving the widest release at 449.
eOne also opened Parker on 301 sites for an opening weekend of $849,000 (£569,493), good enough for fourth spot. That's fairly solid in terms of Jason Statham actioners, ahead of the likes of Crank ($671,000/£450,141 from 263) and Killer Elite ($717,000/£481,143 from 299) but behind the likes of Safe ($1m/£679,716 from 330) and The Mechanic ($1.4m/£921,554 from 301).
Universal's horror Mama rounded off this week's top five, scaring up an additional $781,000 (£525,000) for a healthy $6.7m (£4.5m) to date, while Les Misérables has now grossed a sterling $58.8m (£39.6m) in the UK through the distributor.
Last week's champion Hansel & Gretel: Witch Hunters fell five places to sixth in its second weekend, following a 54% drop on its preview-boosted opening. The 3D action horror added $756,000 (£507,267) for $4m (£2.7m) to date.
Paramount also opened The Guilt Trip in 318 sites, hoping that the mother-son road trip comedy could capitalise on Mothering Sunday.
The result was a $594,000 (£398,366) debut, director Anne Fletcher's lowest-ever UK opening, to chart seventh. Fletcher's strongest opener in the UK remains The Proposal, which notched a $4.8m (£3.2m) debut on its way to an excellent $17.6m (£11.8m).
Fox's A Good Day to Die Hard has now grossed $15.4m (£10.3m) in the UK, following a $502,000 (£337,571) fourth weekend, That tally makes it the second highest-grossing Die Hard of the series, ahead of Die Hard with a Vengeance's $15.2m (£10.2m), but the fifth instalment is unlikely to catch the series' best performance, Die Hard 4.0's $20.7m (£13.9m) haul.
Also for Fox, Stoker dropped a hefty 75% in its second weekend after shedding over 100 of its opening sites, and has now taken $1m (£701,510), while Lincoln and Life of Pi have taken $12.6m (£8.5m) and $44m (£29.6m), respectively.
Warner Bros' Oscar winner Argo is now up to $11.1m (£7.5m) in the UK, while ambitious adaptation Cloud Atlas has grossed $2.1m (£1.4m) to date and Fire with Fire recorded a soft $29,000 (£19,201) debut from its 105 sites. With the latter, it's worth noting that many of those sites wouldn't have played the film (which went straight to video in the US) more than once a day.
This weekend sees saturation releases for Warner Bros' The Incredible Burt Wonderstone (which opened SXSW last week), Koch Media's Red Dawn and Momentum's Welcome to the Punch. Metrodome's Maniac, Altive's Vinyl and Lionsgate's The Paperboy all receive wide releases, while Artificial Eye's Beyond the Hills and Dogwoof's The Spirit of '45 are among the films receiving a limited release.