Dir/scr: Paul King. UK. 2014. 85mins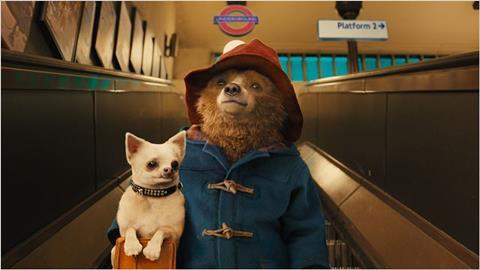 The much-loved British children's book character Paddington Bear makes a smooth transition to the big screen in this delightfully entertaining family film that has charm, fun and a glossy sense of adventure to spare. While resolutely British in tone, humour and casting it's sheer sense of warm-hearted exuberance could well see it also click with international audiences, especially those aware of the comical misadventures of this little bear…after all, the books have sold more than 35 million copies and been translated into 40 languages.
Paddington is a real pleasure – innocent, charming, funny and with some action thrown in for good measure – and likely to really strike a chord with families.
Produced by David Heyman – who did rather well adapting the Harry Potter books – the film is made with a real sense of style and magic, and while its underlying tone is gently old-fashioned it also is blessed with a contemporary sense of pace and adventure. Rather bemusingly, in the UK it has received a PG classification (for "dangerous behaviour, mild threat, innuendo, infrequent mild bad language") which means that in the view of ratings body the BBFC it features "some scenes may be unsuitable for young children", though in truth it works extremely well as a perfect family film.
Certainly there is a darkish tinge to Paddington – he has problems with a sinister museum taxidermist who has an old score to settle – but this is a film played for affection and laughs. There are plenty of gags to keep adults amused as well, and running just under 90 minutes it looks like being a strong festive performer at the UK box office - it has its world premiere on Sunday November 23 and opens on November 28 – prior to its December and January roll-out internationally.
Paddington Bear first sniffed the light of day in Michael Bond's 1958 book A Bear Called Paddington, with the subsequent series proving popular bestsellers. A successful 56 episode British television series, which began in 1975, designed and directed by Ivor Wood and beautifully narrated by Michael Hordern, was also a great success, though this film marks the first time Michael Bond has okayed his characters appearing on the big screen.
The film opening in engaging retro-style sepia as a dashing young explorer heads to 'darkest Peru' in search of rare and wonderful beasts. He meets the rarest of creatures – genial bears who share his love for marmalade and who, amazingly enough, master the English language. Leaving behind his hat and a promise that they would always be welcome in England he returns home.
Years later and a young bear is happily living with his Uncle Pastuzo and Aunt Lucy (voiced by Michael Gambon and Imelda Staunton), where they enthusiastically make marmalade and lead gentle. But after tragedy strikes, the young bear – wearing the explorer's hat, carrying a suitcase full of marmalade and with a hand-written label around his neck (stating "Please look after this bear. Thank You") – heads to London and the promise of a warm welcome.
He ends up at London's Paddington Station where he ends up being befriended by the kindly Mrs Brown (Sally Hawkins). She volunteers to take him home with them (and names him Paddington after his 'bear name' proves unpronounceable) much to the disbelief of the more serious Mr Brown (Hugh Bonneville) and the bemusement their two children Judy and Jonathan (Madeleine Harris, Samuel Joslin).
Soon the accident-prone Paddington is properly part of the family – despite a rather funny bathroom incident that sees him flood the house – and even becomes something of a local hero when he foils a Portobello Market pickpocket. The Browns search for the explorer to try and help find Paddington a home, but things take a darker turn when Millicent (Nicole Kidman, having a great time as a hiss-worthy baddy very much in the Cruella de Vil mould), a taxidermist at the Natural History Museum, who has her own designs on the genial young bear.
Paddingtonis beautifully adapted and directed by Paul King (who made cult film Bunny And The Bull), giving the film a gentle magical quality – that fact that a small talking bear in a floppy red hat and a blue duffel coat is amongst Londoners is never given a second thought – that is imbued with compassion and charm. Certainly there is a degree of action/peril as the Browns head off to and try and rescue Paddington from danger at the Natural History Museum (also an excuse for a great location, probably not used as well since the 1975 classic One Of Our Dinosaurs Is Missing), but is all played for gambolling laughs.
Much was made in the media when Colin Firth, originally set to voice Paddington, dropped out and Ben Wishaw came in. But in truth Wishaw has the perfect voice for the gamely innocent young bear, and brings much to the character. Hugh Bonneville and Sally Hawkins are delightful as Mr and Mrs Brown, while Julie Walters also chips in a typically entertaining over-the-top performance as the family's feisty and eccentric housekeeper Mrs Bird.
Paddington is a real pleasure – innocent, charming, funny and with some action thrown in for good measure – and likely to really strike a chord with families. Roll on the sequel.
Production company: Heyday Films
International sales: StudioCanal, www.studiocanal.com
Producer: David Heyman
Executive producers: Rosie Alison, Jeffrey Clifford, Alexandra Ferguson
Cinematography: Erik Wilson
Editor: Mark Everson
Production designer: Gary Williamson
Music: Mark Urata
Main cast: Ben Wishaw (voice), Hugh Bonneville, Sally Hawkins, Nicole Kidman, Julie Walters, Peter Capaldi, Jim Broadbent, Madeleine Harris, Samuel Joslin