Dirs: Sam Fell, Chris Butler. US. 2012. 100mins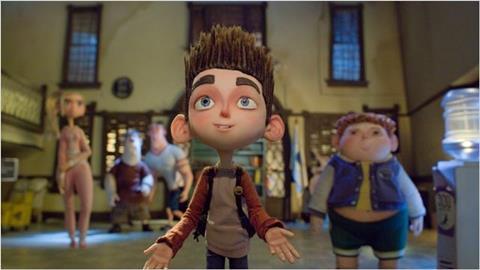 Coraline producer Laika delivers another prime example of 3D stop-motion animation in ParaNorman, a witty comedy thriller with a worthwhile message for kids and their parents. Probably too understated to match this summer's frenetic animated blockbusters at the box office, this classic horror homage, directed by British animators Sam Fell and Chris Butler, should still be able to scare up a decent take through distributor Focus Features.
The horror action is impressively staged and shot and, in the story's big finale at least, quite scary.
The animation competition may stop ParaNorman, which Focus opens wide in the US on August 17, from beating Coraline's $75m domestic gross. However the new entry's European visual style and Brit-influenced sense of humour might lead to a better international tally than Coraline's $49m.
Misfit loner Norman (voiced by Kodi Smit-McPhee, from Let Me In) is bullied at school and chided at home because he claims to be able to see and speak to the dead. His only comfort comes from the zombie movies he watches with the ghost of his beloved grandmother (voiced by Elaine Stritch).
When a crazy uncle (John Goodman) with similar powers dies, Norman is tasked with protecting the town from a centuries-old witch's curse that calls the dead townsfolk of Blithe Hollow out of their graves. Swallowing his fear, Norman forms an unlikely alliance with a tubby classmate (Tucker Albrizzi), his superficial sister (Anna Kendrick), the school bully (Christopher Mintz-Plasse) and the local jock (Casey Affleck) and sets out to confront the witch's angry spirit.
Fell, who previously directed The Tale Of Despereaux and Aardman's Flushed Away, and Butler, a Coraline storyboard supervisor who also wrote the ParaNorman script, create a nicely melancholy mood around their eleven-year-old hero and leaven it with dry humour.
The film is sometimes a bit thin dramatically but the horror action is impressively staged and shot and, in the story's big finale at least, quite scary.
The characters have an angular, quirky look that recalls European rather than American animation and the 3D is used to subtle effect. The large voice cast also includes Jeff Garlin, Casey Affleck and Bernard Hill and Jon Brion provides a suitably off-kilter score.
Production companies: Laika Entertainment
US distribution: Focus Features
International distribution: Universal Pictures International
Producers: Arianne Sutner, Travis Knight
Screenplay: Chris Butler
Director of photography: Tristan Oliver
Production designer: Nelson Lowry
Editor: Christopher Murrie
Music: Jon Brion
Costume design: Deborah Cook
Website: www.paranorman.com
Main cast (voices): Kodi Smit-McPhee, Tucker Albrizzi, Anna Kendrick, Casey Affleck, Christopher Mintz-Plasse, Leslie Mann, Jeff Garlin, Elaine Stritch, Bernard Hill, Jodelle Ferland, Tempestt Bledsoe, Alex Borstein, John Goodman