Dir: Dee Rees. US. 2010. 84mins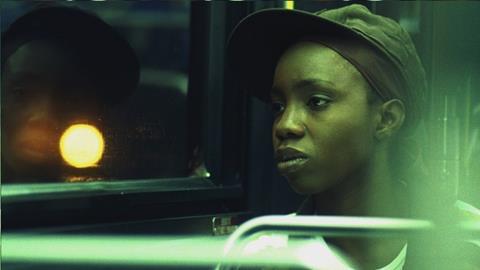 Family life in Pariah (exec-produced by Spike Lee) is not the abusive hell that it was in Precious, which won at Sundance 2009, but the theme of freedom for African-American women through literary expression connects the two films. In Pariah, a teenager battles with parents, peers and a phallic prosthesis in Brooklyn as she explores her sexual identity.
Bradford Young's ingenious camera work sets Pariah apart from the typical debut coming of age feature.
Pariah's motivational fervor could rally the same audience that went to see Precious, but the film's future is likely to be at festivals around the world and in art houses. An Oprah appearance by director Dee Rees and the African-American cast – a clear possibility given the subject – could lift the drama into a broader public.
The character that inspires the film's overblown title is Alike (Adepero Oduye), 17, who dresses up as a boy in baggy pants and baseball caps when she goes to lesbian clubs. Fear of Alike's sexual awakening frays the troubled marriage between her middle-class detective father (Charles Parnell) and her fussy conservative mother (Kim Wayans). As they fight, to soothe her pain, Alike writes.
Pariahrecreates the heated atmosphere of clubs where gay women gather for strength in numbers and then head back to lonely lives. In a poignant scene, Alike changes clothes on the way home to conceal a reality that her parents already suspect - and that her bratty sister played by Sahra Mellesse already knows.
Directing her own script, newcomer Dee Rees builds the drama's tension with the pressures of family, school and friends whose loyalties shift. Thanks to cinematographer Bradford Young, those tensions can be read in close-ups on the often-mute face of Adepero Oduye.
Young's ingenious camera work sets Pariah apart from the typical debut coming of age feature. It bumps up against bodies in a club, bounces back and forth in family arguments, and roams the lonely streets with Alike. His award at Sundance 2011 for cinematography was well deserved.
In the role of Alike's father, Charles Parnell plays the stubborn parent who digs in his heels and refuses to acknowledge that his little girl's maturity has taken its own path. Kim Wayans heightens the family drama as the wife who directs her festering ire at the husband who's rarely there and at the daughter who resists any effort to be changed.
Pariah resolves these conflicts with a redemption that real people who've lived in these situations can only pray for. Didactic and motivational, this first feature still packs drama on the way there.
Production companies: Northstar Pictures, Sundial Pictures LLC, aid+abet, MBK Entertainment, Inc.
International Sales: Cinetic Media, www.cineticmedia.com
Producer: Nekisa Cooper
Executive Producers: Spike Lee, Jeff Robinson, Sam Martin, Mary Jane Skalski, Susan Lewis, Ann Bradley, Stefan Nowicki, Benjamin Weber, Joey Carey
Screenplay: Dee Rees
Cinematography: Bradford Young
Production designer: Inbal Weinberg
Editor: Mako Kamitsuna
Main Cast: Adepero Oduye, Pernell Walker, Aasha Davis, Charles Parnell, Sahra Mellesse, Kim Wayans, Shamika Cotton, Ray Anthony Thomas