Dir: Edward Zwick. US. 2013. 114mins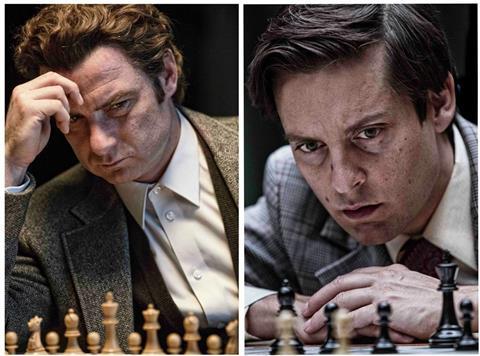 Pawn Sacrifice, Edward Zwick's portrait of Bobby Fischer at the height of his fame, won't put the film audience behind chessboards, but it takes us back to one of the oddest prodigies of the 1970s. The gripping period film, rigorous in its reconstruction of the recent past, proves that the game of chess can be cinematic in well-edited doses, and that Tobey Maguire as Fischer can sustain a serious, albeit quirky drama.
To their credit, Zwick and Knight don't fall into the Hollywood trap of seeking to make their protagonist too sympathetic. Fischer the chess prince could be nasty, vain, paranoid and thoughtless, and we see plenty of that.
Rallying generations weaned on video games behind this retro showdown between Fischer and Soviet chess wiz Boris Spassky is a tall order. The film could still test whether the armies of chess players out there will want to revisit the days of the game's controversial anti-hero.
Critics, though, are likely to back the ambitious saga, and Maguire's immersion in the chess competitor's bizarre infuriating genius will bring him awards consideration.
Zwick tackles the unwieldy challenge of putting cerebral chess into pictures by following Fischer from his childhood as the gifted son of a communist Jewish mother in cold War Brooklyn into a career where Fischer remained a temperamental child, yet one with rock star notoriety.
The lucid script by Steven Knight (Eastern Promises, Dirty Pretty Things) follows the ascent of that eternal child as a journey into a complex psyche. Was he crazy or crafty, or both? Could he have been suffering from Asperger's Syndrome before that condition was a common diagnosis?
Chess players may recognise Fischer's precocious shrewdness from the moves on the board, yet Knight and Zwick, wisely, stress another talent, Fischer's gamesmanship, a psychological strategy for weakening opponents. The tactical temper outbursts of the legendary tennis star, John McEnroe, another prodigy, come to mind.
Showing Fischer's mind on the screen is as resistant to cinema as charting his chess moves, and Maguire is up to the task as the obsessional youth who defers sex and status to plot his next victory. He also captures Fischer's weaknesses. The prodigy wasn't simply self-centered to the extreme. His hypersensitivity to noise and "voices" pointed to psychosis that would eventually destroy his career and doom him to a peripatetic exile.
To their credit, Zwick and Knight don't fall into the Hollywood trap of seeking to make their protagonist too sympathetic. Fischer the chess prince could be nasty, vain, paranoid and thoughtless, and we see plenty of that.
Boris Spassky, Fischer's most famous Soviet opponent, is played by Liev Schreiber as urbane, quiet and imperturbable, the anti-Fischer. Imperturbable, that is, until Fischer's antics unsettle and finally crack him in Reykjavik, Iceland, in 1972.
Zwick sets Fischer's battles with Soviet players against a background of news footage of a world in upheaval – Vietnam, violent demonstrations, youth rebellion. It captures his importance in the Cold War, where Fischer singlehandedly transformed a field of battle where the Soviets once held clear superiority. Fischer's anti-communist ardor is left ambiguous (his lawyer Paul Marshall, played by Michael Stuhlbarg, says he's helping Fischer out of patriotism), yet we see Fischer rail against Soviet dirty tricks and Jews and listen all night to reactionary Christian radio. It's hard not to view that rage which explodes out of Maguire as the beginning of a condition that consumed Fischer, spiraling into feverish anti-Semitism and praise for the 9/11 attacks.
The period production design of Pawn Sacrifice by Isabelle Guay wraps us in 1960s and '70s commercial kitsch and monochrome television news, weaving the suited figures of Fischer and Spassky into its palette to provide the look and feel of the rivalry between two men and two world powers.
Zwick and Knight sweep us into that atmosphere, pushing a wealth of details aside to tell their story. Fischer's mother (Robin Weigert) and sister (Lily Rabe), while present, don't get much depth, although we feel the futility of trying to guide the mercurial diva in the character of chess playing priest Bill Lombardy, played poignantly by Peter Sarsgaard. Pawn Sacrifice only gives us an outlined epilogue of the final chapter of Fischer's life, where the Mozart of chess became the game's Ezra Pound before the boy prodigy's early death at 64. That's a challenge for another film. He's hard to enough to like in the evocation of Fischer's greatest victories.
Production companies: Gail Katz Productions, Material Pictures
International sales: Lionsgate, www.lionsgate.com
Producers: Edward Zwick, Gail Katz, Tobey Maguire
Screenplay: Steven Knight
Cinematographer: Bradford Young
Editor: Steven Rosenblum
Sound: Louis Marion, Tom Fleischman, Lon Bender
Music: James Newton Howard
Production Designer: Isabelle Guay
Principal Cast: Tobey Maguire, Peter Sarsgaard, Liev Schreiber, Michael Stuhlbarg, Robin Weigert, Lily Rabe