Dir/scr: Michael Tully. US. 2013. 92mins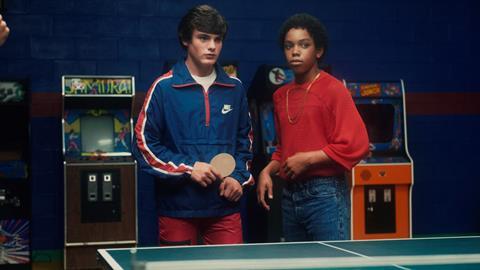 A warm and fuzzy coming-of-age comedy that makes wonderful use of its 1980s backdrop, Michael Tully's Ping Pong Summer may well feel rather familiar, but there is a lot of good-natured and very accessible fun to be had about its tale of one 13-year-old's dream of glory on the table tennis table.
Ping Pong Summer is a smartly made film that will have audiences of a certain age remembering the warm summers of the '80s with pleasure.
The film – which screened at the Sundance and Rotterdam festivals – hits the mainstream sweet spot with its loving links to 1980s rap, video games, soft rock and branded clothes, with strong cameo casting helping top of this well constructed and sweetly made film. Susan Sarandon is top of the cameo list – though more could have been made of her – while John Hannah and Lea Thompson (herself a heroine of many a 1980s teen film) help give extra sheen.
It is a familiar and much-loved coming-of-age format. Shy and rather awkward Radford "Rad" Miracle (Marcello Conte) heads to the Maryland beaches on holiday with his enthusiastic parents – Thompson and Hannah (playing an Irish cop of all things) – and permanently grumpy older goth sister Michelle (Helena Seabrook).
He is befriended by the equally mild-mannered Teddy Fryy (Myles Massey) and the pair bond through their love of hip-hop and ping pong, with Teddy introducing Rad to the delights of the Fun Hub amusement hall, replete with air hockey, video arcade games and a ping pong table.
The pair are enthusiastic amateurs rather than good players, but their good natured game is interrupted by arrogant rich kids Lyle Ace (Joseph McCaughtry) and Dale Lyons (Andy Riddle) who kick them off the table and warn them to keep away. Add to the plot the fact that Rad takes a shine to Lyle's ex-girlfriend Stacy Summers (Emmi Shockley) – who is way out of his league- and you have a film heading towards a ping-pong showdown between Rad and Lyle as a chance for the bumbling 13 year-old to claim teen glory and maybe get to kiss the girl.
Salvation of sorts comes in the form of his oddball next-door neighbour, the wonderfully named Randi Jammer (Susan Sarandon), who, it turns out, happened to be a former table tennis star. How handy! So she sets about training him – which mainly seems to involve her drinking and commenting "ball making contact" as he practices – and giving him the self-confidence to play the vital game. Cue knowingly clichéd lines from Randi such as "look for the power inside you" and "now its time to stop being a loser, now is the time to kiss the girl", all delivered with genial warmth by Sarandon, whose presence brings some class to the final third of the film.
Ping Pong Summer treads a fine line between being an ironic tribute to 1980s teen comedies and wanting to work as a fun, formulaic, and accessible film in its own right. It lacks the edge of films such as The Way Way Back, but is made with a real warmth and affection for its characters and time period that it is easy to forgive.
There are moments when the script lacks a certain drive and wit, but the young cast bring a lot of sweet-natured energy, and while it could do with a bit more polish Ping Pong Summer is a smartly made film that will have audiences of a certain age remembering the warm summers of the '80s with pleasure.
Production companies: Nomadic Independence, Epic Match Media
International sales: Films Boutique, www.filmsboutique.com
Producers: George M. Rush, Brooke Bernard, Ryan Zacarias, Billy Peterson, Jeffrey Allard, Michael Gottwald
Executive Producers: Wally Hall, Marcus Dean Fuller, Julie Fuller, Ferris Gibson, Andrew Russo, Dominic Fortunato
Cinematography: Wyatt Garfield
Editor: Marc Vives
Production designer: Bart Mangrum
Music: Michael Montes
Main cast: Marcello Conte, Myles Massey, Helena Seabrook, Joseph McCaughtry, Andy Riddle, Emmi Shockley, Lea Thompson, John Hannah, Susan Sarandon