Dir: Klay Hall. US. 2013. 92mins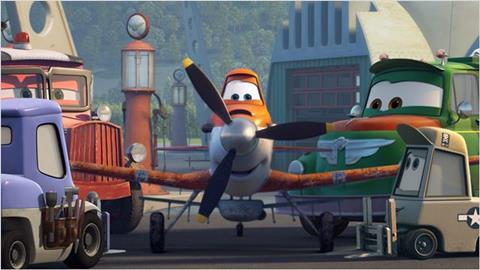 Mid-level animation meets a slapdash, achingly familiar story in the lackluster animated adventure tale Planes, billed as a spinoff to Disney's successful Cars franchise. Absent much in the way of any special Pixar pixie dust, however, Planes shifts into autopilot early on, and rushes through a checklist of underdog self-actualisation in a manner more dutiful than inspired. All but the youngest viewers may leave feeling they've overpaid for this flight.
Director Klay Hall and editor Jeremy Milton drive Planes forward at an intense clip, but their vision doesn't possess much nuance.
After initially slotting the movie for a direct-to-video release Disney reconsidered, and now hopes to ride Planes to parallel franchise lucre (a sequel, touted in a closing credits card, is already scheduled for next summer). 2006's Cars ($462 million worldwide) and its 2011 sequel, Cars 2 ($560 million worldwide), were huge earners for the company, though almost two-thirds of the latter film's theatrical gate came from overseas.
With The Smurfs 2, Despicable Me 2 and even the underperforming yet similarly themed Turbo still in the theatrical top 10 in the United States, international returns will be extremely important for Planes' future (at least one character, for instance, will be localised in almost a dozen countries, with different flags and colours on the craft), especially given word-of-mouth that will be depressed compared to normal Pixar offerings. (John Lasseter takes executive producer and story credits, but the company otherwise has no involvement here.)
A small town crop-dusting plane, Dusty Crophopper (Dane Cook, a production replacement for Jon Cryer) has dreams of competitive air racing. In addition to the technical limits of his construction, he's also afraid of heights. Still, Dusty takes as a mentor Skipper Riley (Stacy Keach), an old, decorated Corsair World War II plane, and after a bit of training promptly wins a spot in "Wings Around the Globe," an open-air race spanning the Earth. There, while making friends with fellow competitors like El Chupacabra (Carlos Alazraqui) and Ishani (Priyanka Chopra), Dusty tries to unseat sneering champion Ripslinger (Roger Craig Smith).
Feelings of detachment or not belonging are a rich pipeline into especially adolescent engagement, but Planes' screenplay, by Jeffrey M. Howard, doesn't tap into these sentiments in an especially compelling way. In fact, the script largely treats character development as a burdensome chore, and has Dusty weirdly, awkwardly declaim details about all the planes he meets, as if he's an omniscient narrator. Ergo, as it works through many of the expected narrative paces (Dusty saving one competitor from danger, realizing another's sabotage/betrayal, etcetera), there isn't the necessary mooring to develop any deeper emotional stakes.
Director Klay Hall and editor Jeremy Milton drive Planes forward at an intense clip, but their vision doesn't possess much nuance. The go-go energy (absent its credits, the movie is just over 80 minutes) will suffice for younger children, but lacks the contours of a more legitimate, robust journey.
An early training sequence montage, where the movie could really come alive, is weighed down by clunky, aerodynamic narration ("Use your radial G! Let gravity work for you!"), and while the softly rounded, anthropomorphised animation is agreeable enough, other action sequences also fail to deploy the sort of subjective point-of-view that would really lend Planes an additional, distinctive visual pop.
For those with an eye for niggling detail, too, groups of cars and planes dotting the background in crowd sequences are often rendered in reactive loops, cheering indiscriminately no matter the specifics of the situation in the foreground. Once one notices this, they can't stop noticing it.
Almost entirely across the board, the movie's vocal performances rely heavily on a variety of broad accents (Mexican, British, French), as if in a further attempt to paper over its negligible characterisations.
Composer Mark Mancina's lively score is a high point. But rather than properly contract Lenny Kravitz, Planes instead just majorly cops his vocal stylings by way of the prominently featured "Fly," performed during the film and again over the closing credits by Jon Stevens. It's yet another sign of the movie's settling for comfortable emulation rather than striving for originality.
Production companies: Disneytoon Studios
Domestic distribution: Walt Disney Pictures
Producer: Traci Balthazor-Flynn
Executive producer: John Lasseter
Co-producer: Ken Tsumura
Associate producers: Tony Cosanella, Kip Lewis
Screenplay: Jeffrey M. Howard, based on an original story by John Lasseter, Klay Hall and Jeffrey M. Howard; with additional story material by Bobs Gannaway and Jon Cryer
Art director: Ryan Carlson
Editor: Jeremy Milton
Music: Mark Mancina
Animation director: Sheryl Sardina Sackett
Website: www.Disney.com/Planes
Main voice cast: Dane Cook, Stacy Keach, Brad Garrett, Teri Hatcher, Julia Louis-Dreyfus, Priyanka Chopra, John Cleese, Cedric the Entertainer, Carlos Alazraqui, Roger Craig Smith, Anthony Edwards, Val Kilmer, Sinbad, Gabriel Iglesias, Brent Musburger, Colin Cowherd, John Ratzenberger