Dir: Maïwenn. France. 2011. 127mins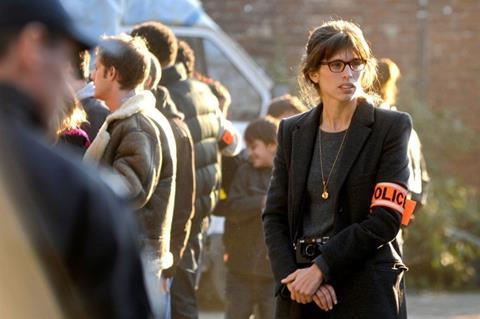 A tough docudrama-style cop story nearly makes it to the finishing post but drops the ball too soon in Poliss (Polisse). This patchily impressive film is all the more frustrating because when it's good it positively crackles, while the less successful passages are self-indulgent and sometimes borderline superfluous.
Maïwenn is undeniably a very strong director of actors, especially in it comes to the delicate scenes involving the various children.
An ensemble piece by actor-director Maïwenn - who scored a domestic hit with her Actresses (2009) - boasts a superb cast and offers a sometimes steely and informative look at the activities of the Paris police's Juvenile Protection Unit. Based, as opening title states, on actual JPU cases, the film bears the marks of serious research.
But Maïwenn is often too taken with her characters' off-duty lives - and, ruinously, with the rather marginal character she herself plays - to truly fulfill the film's initial promise of casting light on the everyday business of child protection. Even so, at its best the film has a vitality and approachability that should make it a passably saleable prospect.
It should flourish in France, where it is released in October, not least thanks to an illustrious cast. Abroad, its profile should be aided by superficial affinities to recent, very different successes A Prophet (which generally boosted the cachet of the realist French policier) and Laurent Cantet's The Class, with which it shares its loose structure and quasi-documentary behind-the-scenes feel.
The film starts with an ironic title sequence set to a bouncy song suggesting that children live "in paradise". The truth, we discover, is rather different, as the JPU officers work through a succession of cases involving, variously, abusive parents and grandparents; Romany children in pickpocket rings; and homeless immigrants begging the JPU to take their children away and give them shelter.
The film is punctuated by a series of seemingly semi-improvised scenes in which officers either grill adults suspected of abuse, or try more subtly - but sometimes awkwardly - to winkle the truth out of nervous children. Punchily shot in naturalistic style by Pierre Aïm, this film has a largely non-linear, fragmentary structure that introduces us by and by to a sprawling cast.
Among the cops are Nadine (Viard) whose colleague Iris (Foïs) is helping her through divorce storms; the volatile Fred (rapper turned actor Joeystarr), whose own marriage problems see him temporarily staying with his long-suffering but affable unit head (Pierrot); and work partners Mathieu (Duvauchelle) and Chrys (Rocher), who have a simmering but unstated fondness for each other.
Also thrown awkwardly into the mix is Melissa (played by the director herself), a photographer assigned to the unit for an official project, and whose outsider-looking-in status appears to represent the director's own research into her subject. The initially comic, gawky Melissa becomes an increasingly sore-thumb presence, and preoccupies the director to a degree that seriously distracts from the film's ostensible theme - especially when she sparks romantically with Fred.
More interesting than the familiar procedural business of raids and strategy meetings is the underdeveloped hard core of the film, which deals with the team's intervention in family dramas and dealings with suspected paedophiles and abusers. These are the most provocative and troubling scenes, with Viard and Foïs excelling in particular. There are also tantalisingly spare cameos by Sandrine Kiberlain and Louis-Do de Lenquessaing as parents in a family case, the latter memorably slimy as a defiant suspect.
Some of the interrogation scenes edge the film into risky and troubling territory, into which Maïwenn and co-writer Emmanuelle Bercot (who also
appears) never finally delve as challengingly as they might. There's some eyebrow-raising comic material, too, notably the scenes in which teenagers under the team's protection insist that they're perfectly capable of running their own precocious lives, thank you very much.
But there are a few too many scenes of the team bonding off duty, which suggest Maïwenn getting carried away by the pleasure of working with such a tight-knit ensemble.
She is undeniably a very strong director of actors, especially in it comes to the delicate scenes involving the various children. She's less adept, though, at judging what is dramatically essential and what is surplus to requirements, and an abrupt and incongruous ending disastrously blows the credit of what has up till then been, flaws notwithstanding, a pretty arresting effort.
Production company: Les Productions du Trésor
International sales: Wild Bunch, www.wildbunch.eu
French distributor: Mars Distribution
Screenplay Maïwenn, Emmanuelle Bercot
Producer: Alain Attal
Cinematography: Pierre Aïm
Editors: Laure Gardette, Yann Dedet
Production designer: Nicolas de Boiscuille
Music: Stephen Warbeck
Main cast: Karin Viard, Joeystarr, Marina Foïs, Nicolas Duvauchelle, Karole Rocher