Dir/scr: Fatih Akin. Germany. 2012. 98mins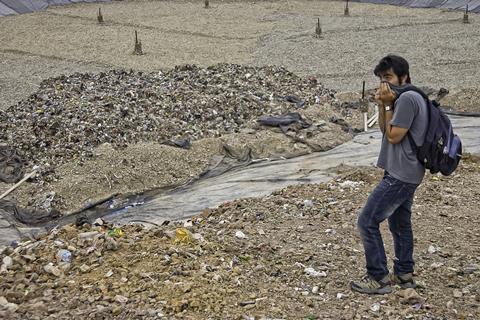 This is a labour of love, if a portrait of an ecological disaster can be called that. Fatih Akin may be based in Hamburg but his grandfather lived on the Turkish shores of the Black Sea in a village called Camburnu, and when Akin heard that the natural splendor of the place is about to be destroyed by a waste landfill being built next door to it, he decided to rise to the challenge by making a documentary about it.
Given Akin's considerable personal reputation, the film is bound to have a solid festival career and fit into the classic ecological niche.
Originally he believed his threat to do so would block the initiative, but that hope soon disintegrated. Today, after going back and forth to the village countless times, the foretold catastrophe is there, though supposedly to be closed down in another two or three years, though no one seems to believe it. All that Akin's documentary, shot over a period of five years, actually manages to do is to serve as a yet another testimony to mankind's systematic folly of self-destruction.
As so often happens with a labour of love, the author, being personally and emotionally involved and affected by every inch of the material tends to lose perspective of the goal and is insufficiently ruthless when putting together his material. A tighter cut, focusing much more on the issues at hand and a bit less on local colour, would deliver a much more meaningful punch, possibly shaking the complacency out of some official boots. Given Akin's considerable personal reputation, the film is bound to have a solid festival career and fit into the classic ecological niche, before moving to its natural destination, TV (two German broadcasters, WDR and NDR commissioned the film).
The problem of city dumps is not restricted to Turkey, but in this particular case every single pledge for health safety and environmental security made to the inhabitants was broken one way or another and every attempt to fix one mishap generated an even bigger one, with the damage reaching monumental dimensions.
A stubborn mayor who refuses to give up and goes on protesting against government policy; outspoken villagers and eloquent womenfolk; a local photographer (Bunyamin Seyrekbasan) trained by Akin and his team to keep the pulse of the place in his absence; embarrassed engineers who pull out of their sleeves excuses they can't sustain and black-tie politicians whose smiles are as fake as their promises, are Akin's stars in this picture.
Sadly, the real decision-makers refused to talk, and even if the villagers look adequately angry and despondent the ultimate feeling is that deep down, all of them, including the filmmakers, are part of a reality show that will have no impact on the course of the events. The best case is made by the images themselves, like the mammoth garbage truck disgorging its malodorous load being more convincing than any amount of spoken arguments.
Production company: Corazon International GmbH
Producers Fatih Akin, Klaus Maeck, Alberto Fanni, Flaminio Zadra, Paolo Colombo
International Sales: The Match Factory, www.the-match-factory.com
Cinematography: Bunyamin Seyrekbasan, Herve Dieu
Editor: Andrew Bird
Music: Alexander Hacke