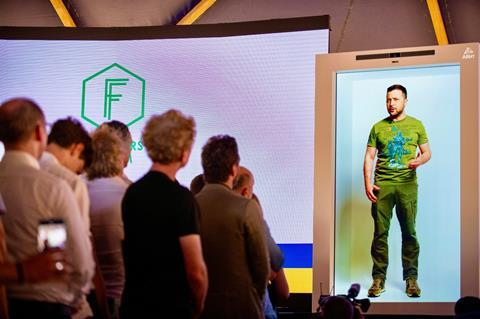 When the president of Ukraine, Volodymyr Zelensky, addressed tech leaders and innovators at events in Stockholm, London, Amsterdam and Paris in mid-June from an undisclosed location in his war-torn country, it was via the state-of-art hologram technology of Canadian company ARHT Media.
The live hologram display using ARHT's HoloPrescence technology gave Zelensky the ability to communicate with emotional resonance as he urged Europe's tech industry to help him rebuild Ukraine following Russia's invasion.
"President Zelensky's speech was incredibly passionate and moving, and our hologram technology made the delivery of his message all the more impactful," says Larry O'Reilly, CEO of ARHT Media. "As the Ukrainian people face such a challenging time, I am proud to know our technology was able to help amplify his message of resilience and courage on behalf of his country and its people."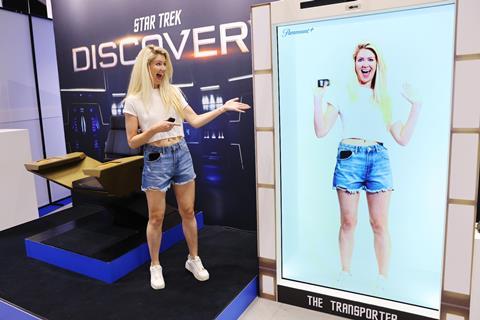 This week ARHT Media is showcasing CAPSULE, its latest touch screen 4K LCD hologram display, to international cinema operators at CineEurope in Barcelona.
"If exhibitors want to create unique experiences at cinemas that customers can't get at home, this is the best way to do it," says O'Reilly. "It's cost effective - and it is exciting."
CAPSULE is a plug-and-play holographic display for events and application in all lighting conditions. It is designed to dazzle in cinema lobbies. It can beam-in live hologram presenters via ARHT's HoloPresence capabilities, as well as unspool pre-recorded programme content that viewers can interact with using touch screens.
In-cinema applications include live and pre-recorded interactive in-lobby advertising, live hologram talent meet-and-greets, immersive trailers and previews, product demos and mainstage holographic performances.
ARHT is using tailored content from Paramount and Warner Bros to show to exhibitors at CineEurope. ARHT partnered with Paramount+ to mark the UK launch of the new streaming service on June 22 with an immersive Star Trek experience, that is live in London's Piccadilly Circus from June 20. The experience deploys ARHT's HoloPresence technology to give members of the public the chance to "beam up" by becoming a live hologram in front of their own eyes, in a recreated set of the iconic transporter from the Paramount+ series Star Trek Discovery.
In May, ARHT Media teamed with Warner Bros to beam DC Films president Walter Hamada from Los Angeles to Sydney to talk at the Australian International Movie Convention. Hamada was live-hosted in Sydney by Andrew Cripps, Warner Bros Pictures' president of international theatrical distribution.
"To think a live interview took place with Walter 8,000 miles away, appearing on the state theatre stage in Sydney as if he was here in person was amazing," Cripps said, describing the kit as "truly an impressive technology."
CAPSULE can be bought outright with services packages starting at $60,000 with leasing options also available, to allow exhibitors to try it out for four months. "We also do rentals for one-off events too," O'Reilly says. "There are all kinds of different options for exhibition."
Sneak peaks of the hologram wizardry for CinemaCon attendees in Las Vegas earlier this year saw ARHT go from 20 scheduled demos to more than 100 due to demand
"The word of mouth was strong and exhibition and distribution executives kept bringing their colleagues over to experience it for themselves, plus we turned everybody into a hologram, which is great fun," O'Reilly says.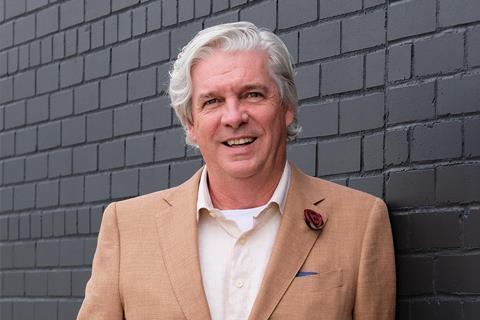 ARHT is bringing the capture kit to Barcelona so attendees can turn themselves into holograms.
"We're really looking to do is build out a network all over Europe," says O'Reilly.
There is a green element to the tech too; CAPSULE can help minimise carbon footprints for big cinema events such as premieres in an age when organisations are striving to get greener and top talent jet-setting around the world to support a film's rollout is increasingly frowned up.
ARHT's HoloPresence technology is already being deployed to beam presenters around the world to appear remotely as lifelike interactive holograms for real-time live interactions with an in-person audience.
The company has studios in Toronto, Los Angeles, New York City, London, Dubai, Hong Kong, Singapore and Fuzhou as well as a large network of partners, including a global partnership with WeWork, resellers and trained technicians around the world.
"Brick and mortar cinemas need to come up with new and innovative ways to attract audiences back as opposed to watching movies from home," notes O'Reilly. "The good news is we have studios who are very invested in driving traffic to the cinemas and are willing to provide unique content that's not available anywhere else that can only be seen in the cinema."
Join ARHT at CineEurope in Barcelona between June 20-23, 2022. The company is based in meeting room M211 on Level M2.
Beyond Barcelona, CAPSULE and ARHT demonstrations will be available in central London from July 1.
Contact: Roger Pollock, rpollock@arhtmedia.com; (1) 424 744 7666

ARHT Media is the global leader in the development, production and distribution of high-quality and low-latency hologram and digital content.