EXCLUSIVE: First still from Berlin Competition drama based on the classic wartime novel.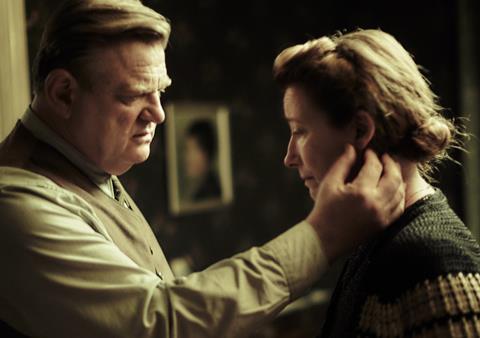 ScreenDaily can reveal the first production still of anticipated Berlin Competition entry Alone In Berlin, actor-director Vincent Perez's adaptation of the classic German novel of the same name.
Based on the true story of a working class couple who conducted a series of anonymous protests against the Nazi regime during the Second World War, Emma Thompson (Saving Mr. Banks) and Brendan Gleeson (Calvary) star alongisde Daniel Brühl (Rush).
Producers are Stefan Arndt and Uwe Schott for X-Filme, the German production outfit whose credits include Amour, The White Ribbon and Cloud Atlas, Master Movie's Marco Pacchioni (Bye Bye Blondie) together with James Schamus (Brokeback Mountain) and FilmWave's Christian Grass (Sing Street) and Paul Trijbits (Jane Eyre).
Cornerstone Films handles international sales.
Hans Fallada's classic 1947 novel centres on Otto and Anna Quangel (Gleeson and Thompson), who live in a shabby apartment block during trying to stay out of trouble under Nazi rule. But when their only child is killed fighting at the front, their loss propels them into the German resistance.
They start to drop anonymous postcards all over the city attacking Hitler and his regime. If caught, it means certain execution. Soon their campaign comes to the attention of Gestapo inspector Escherich (Bruhl), and a deadly game of cat-and-mouse begins.
But the game serves only to strengthen Otto and Anna's sense of purpose, and slowly their lives and marriage are transformed as they unite in their quiet rebellion.