Ewa Puszczynska, a producer on Pawel Pawlikowski's Oscar-winning Ida, is preparing the first feature project of her own new company.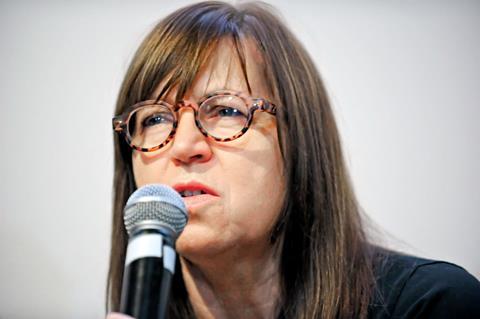 Speaking to ScreenDaily during this week's Polish Days in Wroclaw, Puszczynska said Lodz-based Extreme Emotions is managed with her daughter Emilia and is in addition to her work as a producer and head of development at Opus Film (Ida).
Puszczynska was at the Polish Days' pitching session on Thursday (July 30) with Aa, the planned feature film debut by the Israeli-born writer-director Jack Faber, which she has been accompanying in its development for the past 18 months
Based on actual events, the film centres on the last night of a heritage tour in Poland by a group of Israeli high-school students when a prank quickly spins out of control and exposes the violent nature of the young people's present lives.
Faber had initially started working on the project during his studies at the Netherlands Film Academy and continued its development during a script editor workshop of the Binger Film Lab and the Berlinale Talent Script Station as well as participation in the Wajda Film School's EKRAN Programme and the Torino Film Lab.
According to Puszczynska, the co-production between Extreme Emotions and Israel's Lama Films has already attracted "serious interest" from potential production partners in France and Germany.
Puszczynska was one of the co-producers for Opus Film on such international projects as Fatih Akin's The Cut, Ari Folman's The Congress and Marius Holst's King Of Devil's Island as well as producing episodes of local TV series at the company.
Polish pitches
Among the other projects at Polish Days was Jan P. Matuszynski's feature debut The Last Family.
David Ogrodnik, one of the stars of Ida and a former European Shooting Star at the Berlinale, has been cast in the film as Tomek, the son of Polish artist Zdzislaw Beksinski who is being played by veteran film and theatre actor Andrzej Seweryn.
The story of the family drama based on true events stretches over nearly three decades from 1977 to 2005, with Tomek, a music journalist and film translator, committing suicide in his own apartment at Christmas 1999, and his father being killed in his apartment in 2005.
Producer Leszek Bodzak announced during the Polish Days that the $1.58m (€1.45m) co-production between Aurum Film and HBO Europe began shooting on location last week.
Pokromski Studio's Mikolaj Pokromski revealed that Polish distributor Kino Swiat is planning an autumn 2016 release for Marie Noelle's $4.37m (€4m) drama Marie Curie, which wrapped earlier this month in Munich.
Pokromski was attending the Polish Days to look for a sales agent for the German-Polish-French co-production as well as a partner to handle the film's sound post-production.
In addition, Kid Film's Artur Reinhart pitched the new feature project by the award-winning director Dorota Kedzierzawska, Speedway, which is seen as a departure from her previous films such as Crows, I Am, and Time To Die where she concentrates on the experiences of disadvantaged children.
The $2.18m (€2m) project centres on the young member of a speedway racing team who has to fight for his place in life and on the track, without any support from his loved ones around him.
Reinhart revealed in Wroclaw that partners from Sweden and Denmark are already onboard the production, which already has $1.86m (€1.7m) in place and is set to begin shooting at the beginning of 2016.
Film Republic takes 'Marianna' to Locarno
UK sales agent Film Republic will be taking the Polish documentary Call Me Marianna to Locarno next week for its international premiere in the festival's Critics' Week independent sidebar.
Sales agent Xavier Henry-Rashid was in Wroclaw this week to promote Karolina Bielawska's film at the New Horizons Film Festival where the film was screened in the Panorama section.
The world premiere of Call Me Marianna was held at the Krakow International Film Festival at the end of May where it won the International Competition Jury's Golden Horn for Best Feature Documentary, the Audience Award.