Film loosely inspired by Dostoyevsky story to shoot in and around Latvian city of Daugavpils.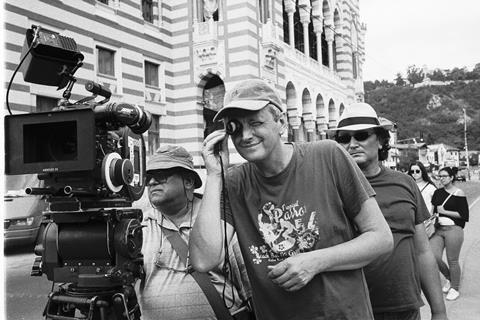 Ukrainian director Sergei Loznitsa will begin shooting his Fyodor Dostoyevsky-inspired feature A Gentle Creature in the Latvian city of Daugavpils this week, Paris-based producer Slot Machine announced on Monday.
The five-week shoot, which kicks-off on Tuesday (July 19), will take place mainly in and around Daugavpils, Latvia's second largest city which lies in the southeast of the country on the border with Lithuania and Belarus. Some scenes will also be shot in Lithuania.
The feature — loosely inspired by Russian writer Dostoyevsky's 1876 short story A Gentle Creature – revolves around a woman who travels to a prison in a remote region to find out what has happened to her incarcerated husband after a parcel she sent is returned without explanation.
"It's a completely invented story: I invented it from start to finish. I was inspired by Dostoyevsky's novella, which he himself called 'a fantastic story'," said Loznitsa in the shoot announcement.
"It is the story of an executioner and his victim, told by the executioner. In my version, the victim retains the role of victim but executioner isn't played by one single character, rather, he takes various forms: his sadistic qualities are re-distributed across a gallery of characters, and the physical space where the victim evolves, is itself threatening and aggressive."
The cast combines professional and amateur actors hailing from Russia, Lithuania and Romania, personally selected by Loznitsa over a period of several months (as has been the case with his previous films).
Vasilina Makovtseva will play the female protagonist. The cast also features Romanian actor Valeriu Andriuta, who played the priest in Cristian Mungiu's Beyond The Hills; Sergei Kolesov, who appeared in Loznitsa's 2012 film In The Fog, and revered Ukrainian actress Lia Akhedzhakova.
Slot Machine is producing the film with Russian GP Cinema Company, Germany's LOOKSFilm, the Netherlands' Wild at Art and Graniet Film, Lithuanian Studio Uljana Kim and Arte France Cinéma on board as co-producers. Dutch Atoms & Void takes an associated producer credit.
The film will be completed in 2017. Paris-based Wild Bunch is handling international sales.
It is Loznitsa's first fiction feature since World War Two drama In The Fog which premiered at Cannes.
In between times, Loznitsa has made a number of documentaries including the award-winning Maidan capturing the 2014 Ukrainian revolution.