As revenue surges, Pinewood CEO comments on Brexit fallout: "Decline in sterling exchange rate is undoubtedly positive for our international customers."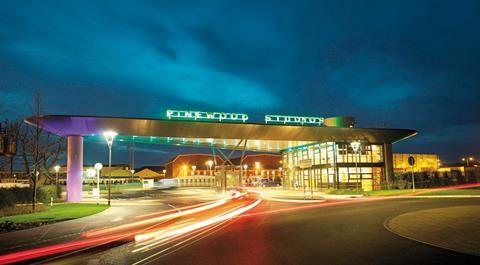 UK and international studio hub Pinewood Group has reported a 10.9% increase in revenue to £83.2 million ($108 million) for the year ended March 31, 2016, helped significantly by US blockbusters Star Wars: The Force Awakens and Spectre.
Operating profit rose 136% to £13.6 million ($17.6 million).
Stage occupancy was 90%, up 10% on the year before. Subsidiary Shepperton Studios hosted seven of the top 25 grossing films of the year.
Following the UK's decision to leave the European Union, and the consequent fall in the value of the pound, the in-demand Pinewood facilities could see even more demand for their studio space.
"In the context of our business, the decline in the sterling exchange rate is undoubtedly positive for our international customers," Ivan Dunleavy, Pinewood chief executive, said.
Last month the company's significant expansion plans became operational with five stages added to the existing studio space.
The first production to utilise the new facilities is Film Stars Don't Die In Liverpool produced by Barbara Broccoli who has a long association with the Pinewood Group through the Bond franchise.
"We have, as expected, already signed a contract for an additional major film production which will fully utilise these new facilities from August 2016," said Dunleavy.
Digital Production Services, the secure management of data generated from digital film shoots on set and on location, saw growth, as did revenues from the Group's international branches, including Pinewood Atlanta, which is set for further expansion.
Meanwhile, recently launched Pinewood Studio Wales has played host to a number of television dramas filming in Wales including The Bastard Executioner (Fox) and more recently Sherlock (Hartswood/BBC) and Class, a BBC Dr Who spin off TV drama.
Pinewood DCS in Wales and London is servicing The Collection (Lookout Point). The tenant community continues to grow with Alpha Grip and Take 2 joining PSW recently.
"This financial year has started strongly with good visibility for the balance of 2016," added Dunleavy.