Dir: Chris Miller. US. 2011. 90mins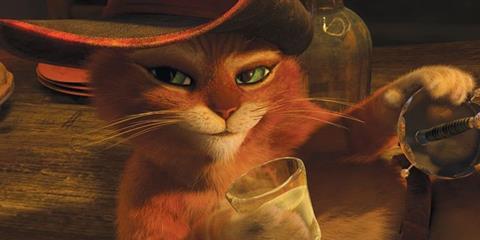 A winning vocal turn by Antonio Banderas anchors the swashbuckling animated family adventure Puss In Boots, a peppy, character-rooted romp that thankfully abandons some of the more frenzied and forced in-joke references of the Shrek series, which introduced its main character.
Banderas' zesty, winking vocal performance jibes with the persona he has chosen to embrace especially for American audiences — that of an exotic, comedically accented "other," a suave dancer and lover.
In both buoyant tone and leading man, err, feline, DreamWorks Animation would seem to have found a successful new animated franchise to take the baton from the character of Shrek, one whose easily translatable story makes it a sure bet for hearty nine-figure worldwide grosses.
The movie establishes the dapper Puss (Banderas), a whiskered tabby cat who walks upright and is good with a sword, as an accidental outlaw — an orphan years ago unwittingly tricked by his best friend and adopted brother, Humpty Dumpty (Zach Galifianakis), into robbing the bank of San Ricardo, where they grew up.
Now living on the lam, Puss is tipped off to the presence of Jack and Jill (Billy Bob Thornton and Amy Sedaris), a pair of oafish thieves who are in possession of some magic beans. Sensing a justifiable score, since his marks are themselves unsavory, Puss finds his plot foiled by Kitty Softpaws (Salma Hayek). When he tracks her down, Puss finds Kitty working in cahoots with Humpty, who professes sincere apology and proposes a reunion and collective quest to get the beans and exonerate their names in San Ricardo once and for all.
The story is a somewhat weird amalgamation of genres, owing to the movie's spin-off roots. While considerable effort is expended in establishing Puss and Humpty's shared past — a fact the screenwriters try to get around by having it presented as a told story within the story — the incorporation of various fairytale elements sometimes comes across as haphazard, and hit-and-miss. Notwithstanding the fact that its main characters are cats and an egg doing battle against a pair of humans, Puss In Boots plays much better as a straight piece of swashbuckling swordplay/adventure fare, in the vein of The Adventures Of Zorro or The Three Musketeers.
Visually, the film is engaging. There's not quite the same level of importance placed on exacting background detail as in many of Pixar's efforts, but the characters are richly drawn and detailed, from the frayed edges of Humpty's collar that offset the almost creepy porcelain of his face to tactile fluffiness of Puss' fur.
Stylistically, Puss in Boots embraces some of Tex Avery's manic sensibilities (a character leaving a shadow cut-out of himself when crashing through a barrier, for instance), and various chase sequences — from Puss' pursuit of Kitty to a thrilling canyon stagecoach chase with Jack and Jill — are superlative examples of action animation, goosed up even further by the movie's stereoscopic 3-D presentation.
Director Chris Miller (Shrek The Third) and his production team deploy split-screen gambits to lend the movie a self-aware quality, and also sometimes hold on characters a bit, pumping up its staginess and various "hero" moments in a manner that seems more cheeky than self-aggrandising.
Somewhat refreshingly, there are not a lot of cameos or comedic relief stuffed into the proceedings via supporting characters; it's a streamlined affair built around Puss, Humpty and Kitty, with Jack and Jill consigned to more functional roles. If there's a knock, it's that the characters' sizes relative to their surroundings sometimes seem cheated or fudged and, again, a couple fairytale elements are worked into the narrative at the expense of exploring more fertile comedic terrain — like, say, the involuntary appearance of Puss' feline tendencies.
Banderas' zesty, winking vocal performance jibes with the persona he has chosen to embrace especially for American audiences — that of an exotic, comedically accented "other," a suave dancer and lover. His interplay with frequent costar Hayek is a treat. Galifianakis, meanwhile, is somewhat restrained as Humpty, playing more honestly to his character's emotion and wounded pride than one might suspect.
Production companies: DreamWorks Animation Studios
Domestic distribution: Paramount Pictures
Producers: Joe M. Aguilar, Latifa Ouaou
Executive producers: Andrew Adamson, Guillermo Del Toro, Michelle Raimo Kouyate
Co-executive producer: John H. Williams
Screenplay: Tom Wheeler
Story: Brian Lynch, Will Davies and Tom Wheeler
Production designer: Guillaume Aretos
Art director: Christian Schellewald
Music: Henry Jackman
Head of layout: Gil Zimmerman
Head of character animation: Fabio Lignini
Head of story: Bob Persichetti
Visual effects supervisor: Ken Bielenberg
Website: http://www.PussInBootsTheMovie.com
Main voice cast: Antonio Banderas, Salma Hayek, Zach Galifianakis, Billy Bob Thornton, Amy Sedaris, Guillermo Del Toro