Dir: Lise Birk Pedersen. Denmark. 2011. 85mins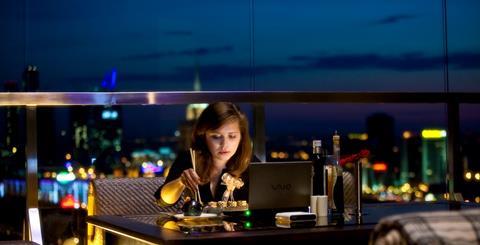 A look into 'Putin-style' democracy in modern-day Russia, Putin's Kiss is a fascinating look at the current state of the nation as viewed through the eyes of an ambitious young woman named Masha Drokova who has risen through the ranks of pro-Putin youth organisation Nashi but has gradually come to see that the organisation is possibly not as transparent as she once thought it was. The film had its world premiere at Amsterdam's documentary festival IDFA.
There are some sobering moments in Putin's Kiss.
She joined Nashi – a popular young organisation with direct ties to the Kremlin and with an agenda to reinforce Russia's status as a superpower nation - aged 15 – and gained notoriety for kissing leader Vladimir Putin when he attended a Nashi meeting.
She quickly rose within the Nashi ranks, becoming a spokesman for the organisation and a protégé of Nashi founder Vasily Yakemenco who is later appointed head of Russia's Federal Agency for Youth Affairs. As a role model for the Putin's years – she had grown up after the fall of communism – she embraced the Nashi profile as a democratic anti-fascist youth movement.
He story is set alongside a voiceover from anti-Putin journalist and blogger Oleg Khasin, who claims that a radical wing of Nashi is responsible for threats and violent attacks on anyone who doesn't agree with Putin, and that far from being a simple youth group, Nashi is developing into a bodies whose remit is to 'fight the enemies of Russia'.
Masha becomes a television face for the organisation and also finds herself mixing with journalists who take a different stance from her, and while they initially distrust her things come to a head when Khasin is brutally attacked – his assault is shown in grainy video footage from a security camera – by "unknown perpetrators, and she realise she has to make a stand and formally protest against the attack.
Masha begins to find herself ostracised by the Nashi leadership and increasingly patronised, and starts to develop a more sceptical view of political events in Russia. The film is given added political impact with Putin having announced his re-candidacy for the presidential election in 2012 after having left the post to Dmitry Medvedev for the last four years.
There are some sobering moments in Putin's Kiss as the film looks at highly organised and regimented protests staged by Nashi, with young people carrying banner of images of people the organisation deems 'enemies of Russia', with the subtext of the film that Putin is encouraging Nashi to act as an increasingly radical support group. At times certain sequences feel too staged, as Masha talks politics with friends or talks with Khasin, but the film has an undeniable power as it looks behind the facade of contemporary Russia.
Production companies: Monday Production, Made in Copenhagen, DR2, ITVS International, Danish Film Institute, YLE
International sales: DR International Sales, www.dr.dk
Producer: Helle Faber
Cinematography: Lars Skree
Editors: Janus Billeskov Jansen, Steen Johannesen
Music: Tobias Hylander
Website: www.putinskiss.com