Dir/scr: Werner Herzog. US. 2015. 127mins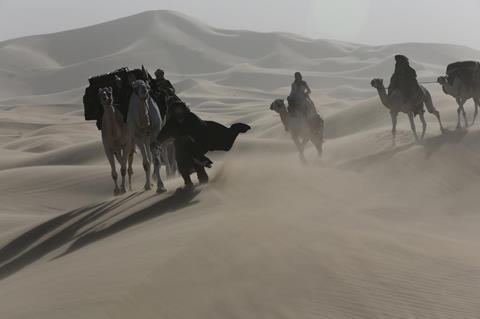 A lush and languid romp through the deserts of the Middle East, Werner Herzog's elegantly mounted and at times deliriously beautiful film is part The English Patient-style drama (for its mesmeric locations and striking design) and part slushy Mills and Boon romantic tale (for its plodding melodrama and often dull dialogue), and while enjoyable in parts, its episodic pacing lets down the real-life story of a bold and remarkable woman.
An old-fashioned sense of melodramatic romance and adventure permeates the whole film.
The strong cast – Nicole Kidman, James Franco, Robert Pattinson and Damian Lewis – go through the motions with stoical determination to look the period part, and while the core story of a fiercely independent and intelligent woman who feels at her happiest deep in the desert and who comes to love the Bedouin is an appealing one, Queen Of The Desert is weighed down by her love for two different men and an attempt to inject drama in the form of dispute for control of the region.
As might be expected, Herzog comes up with some striking footage and enthralling visual sequences (though some of his camera movements feel clumsy at times), but this awfully big adventure – very much in the vogue of the derring-do of the well-to-do British adventurer/explorer – lacks real dramatic drive and heads into unfortunately bloated melodramatic territory.
Nicole Kidman gets to polish off her best English accent as the adventurous Gertrude Bell, brought up in a life of privilege but bored with the rituals of upper-class society. Her father arranges for her to stay at the British embassy in Tehran, where she soon falls for the limp charms of Henry Cadogan (a rather bland James Franco, with a so-so English accent), a secretary at the embassy. But their romance is not meant to be, and before long she is roaming the desert, looking for peace under the open skies and amidst the barren landscape.
Her journeys bring her into contact with a young archaeologist named T.E. Lawrence (Robert Pattinson), before he would find fame as Lawrence of Arabia, and she would drift into a romantic relationship – largely based on letters and diaries written for each other – with Major Charles Doughty-Wylie (Damian Lewis), the British Consul General in the Ottoman Empire. She would go on to become a British political officer in the 1920s based on her experience of the region, but her heart would remain with the people of the region, learning languages and translating literature.
Kidman is perhaps the wrong age now to try and play the strident younger Florence, but comes into her own as the slightly older woman at ease in the desert and confident in her ability to get on with local people. She holds the film together – the men (apart from Lawrence) largely adore Gertrude and follow her around – but while her performance is impressive it is a little one-tone at times. Pattinson sports the familiar keffiyeh headdress is typically dashing style, but his Lawrence plays a minor role and flies close to being clichéd rather than useful dramatically.
An old-fashioned sense of melodramatic romance and adventure permeates the whole film, which offers romance that is ultimately chaste rather than sexual. In fact a scene of Gertrude bathing in a bath tub in the desert offers a glimpse of nipple, while the loves scenes are all played fully clothed. Much is made of her affinity with the Bedouin, and on paper her friendship with the loyal Fattuh (Jay Abdo) should be a key part of the film, but we learn nothing about him expect that fact that he is loyal to her.
Production companies: Palmyra Films, Benaroya Pictures
International sales: Sierra/Affinity, info@sierra-infinity.com
Producers: Nick Raslan, Michael Benaroya, Cassian Elwes
Executive producers: Jonathan Debin, Cathy Gesualdo, James Lejsek, Shelly Madison, Ben Sachs, D Todd Shepherd
Cinematography: Peter Zeitlinger
Editor: Joe Bini
Production designer: Ulrich Bergfelder
Music: Klaus Badelt
Main cast: Nicole Kidman, James Franco, Damian Lewis, Robert Pattinson, Jenny Agutter, Holly Earl, David Calder, Christopher Fulford, Jay Abdo, Nick Waring