Dir: Bruno Barreto. Brazil. 2013. 116mins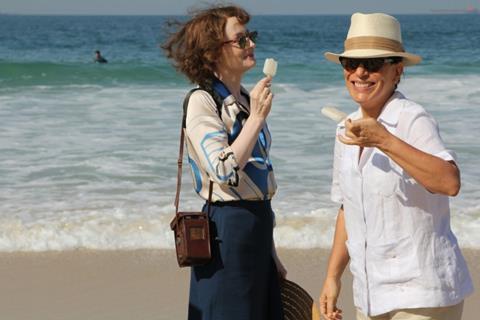 The complex and heightened romance between American poet Elizabeth Bishop and Brazilian architect Lota de Macedo Soares is brought to the big screen with lush and emotional intensity by Brazilian director Bruno Barreto, resulting in a resolutely melodramatic film that feels engagingly old-fashioned as it revels in its lesbian love-triangle storyline.
The strength of Reaching For The Moon is in the strong – and very different – performances from Miranda Otto and Glória Pires.
Strong performance from Australian actress Miranda Otto (from The Lord Of The Rings) as Bishop and telenovela star Glória Pires (in her first English language role) as Lota could help the film break-out into art-house cinemas (where poetry lovers may be intrigued), while it will likely also be a fixture on the gay film circuit. Reaching For The Moon (Flores Raras), which screened as a Panorama Special at Berlin, is also conducted largely in English, which could make it more appealing internationally.
The period feel of 1950s Rio and New York are nicely brought to the screen, giving the film a sense of Man Men-style class and charisma (reflected in the fashion, drinking, smoking and enthusiasm for sexual congress), but the film is essentially a love story drawn along by a dash of culture and sophistication as it dwells on Bishop's poetry and Lota's architecture and design work. She would find greater fame also as the designer of Flamengo Park in Rio de Janeiro.
The film opens in New York with Bishop seeking advice from her friend Robert Lowell (an engaging if brief performance by Treat Williams) on how to deal with her writer's block. Change is the advice, and so in 1951 she arrives in Brazil, and is invited by Mary Morse (Tracy Middendorff), a friend from Vassar, to stay at the lush Samambaia estate outside Rio that she shares with Lota.
The devastatingly straight-laced Elizabeth – who is in secret a heavy drinker – is put off by the forthrightness of Lota and her Brazilian friend, and an allergic reaction to food means she falls ill and has to stay at the estate, and the scene is set for Lota and Elizabeth to fall in love.
The relationship between the three women is what then drives the film. Lota builds Elizabeth an office on the estate so she can work on her poetry, and 'buys' a baby for Mary, who also stays on at the estate. Elizabeth drinks more, gets creative and wins the Pulitzer Prize; Mary's daughter grows and becomes a little charmer, and Lota convinces right-wing politician Carlos Lacerda (Marcello Airoldi) that she should design and build Flamengo Park.
Eventually, with their relationship strained, Elizabeth moves back to New York in 1967 to take up a teaching post, and after Brazil's military coup d'etat Lota's life is never quite the same. The film ends with a sense of melodramatic sadness that is perfect for the tone of the story.
Though perhaps too mannered and over-wrought at times, the strength of Reaching For The Moon is in the strong – and very different – performances from Miranda Otto and Glória Pires. Piries is a vibrant and charismatic force of nature, and is perfect as the frank and down-to-earth Lota, while Miranda Otto's shy elegance nicely fits with complex characteristics of Elizabeth Bishop. Perhaps best of all, though, is the Samambaia location, an elegant and lush haven that makes the most perfect of film backdrops.
Production companies: LC Barreto, Imagem Filmes, Globo Filmes, Telecine, Globosat, Teleimage
International sales: The Film Consultancy, penny@thefilmconsultancy.com
Producers: Lucy Barreto, Paula Barreto
Executive producers: Penny Wolf, Romulo Marinho Jr
Associate producers: Mary Jane Marcasiano, Emilia Duncan, Jytte Jansen, Helio Bodini
Screenplay: Carolina Kotscho, Matthew Chapman, based on the book Rare and Commonplace Flowers: The Story of Elizabeth Bishop and Lota de Macedo Soares by Carmen L. Oliviera
Cinematography: Mauro Pinheiro Jr
Editor: Leticia Giffoni
Production designer: José Joaquim Salles
Music: Marcelo Zarvos
Main cast: Miranda Otto, Glória Pires, Tracy Middendorf, Marcello Airoldi, Treat Williams