A multi-generational passion project for the actor-turned-director Josef Bierbichler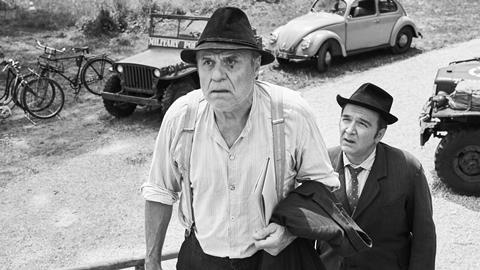 Dir Josef Bierbichler. Germany. 2018. 128 mins
A rambling tale of three troubled generations in a rural Bavarian family provides an idiosyncratic lens through which to view the last century of German history. This ambitious and deeply personal project from actor Josef Bierbichler was adapted from his own semi-autobiographical novel. It's a robustly theatrical affair, full of big performances and a mixed bag of showy stylistic devices. But while individual scenes are striking, they don't always cohere together – there is an episodic, sprawling quality to the film which reveals its literary origins and suggests that Bierbichler is a little too close to the material to be pragmatic about its editing.
Ultimately, the end to the this journey is not clear
The profile of veteran actor Bierbichler – over the course of an illustrious career in film and theatre, he has worked with the likes of Michael Haneke, Werner Herzog and Tom Tykwer – is the film's key selling point in German language territories. And it is within these territories that the film's distinctively Bavarian sensibility will best connect with audiences, despite a muted response there on theatrical release earlier this year. Elsewhere, this undefinable and curious tonal mixture of austere historical drama and surreal absurdity might struggle to connect with viewers.
The film opens with a funeral. Pankraz (Bierbichler) mourns the death of his wife Theres (Martina Gedeck). But as the guests disperse, he is left alone with his son Semi (Simon Donatz), who glowers in the corner, nursing a beer and a lifetime of grudges. Pankraz decides that this is the moment to share with his son his life story; Semi wishes he had never been born.
Rifling through a box photographs, Pankraz is transported back to his childhood, just at the outbreak of the First World War, spent in the home on a lake that he now runs as an inn. The leached out, grey-tinged colour palette of the funeral scene gives way to a crisp monochrome in the flashbacks. As a mischief-prone youngster, Pankraz eavesdrops on his family, as his older brother heads off to join the fighting. It's not until much later, when Pankraz has grown into a young man (also played by Simon Donatz) with aspirations to be an opera singer, that his brother finally returns. But the brother's mind has been irreparably damaged by conflict. Pankraz learns that he must give up his dreams of singing, take up the reigns of the family business and do his duty by his country – he too must fight, this time in the second world war.
In the post-war period, Bierbichler takes over the role of Pankraz – it's a dramatic, disorientating jump in age for the character which is somewhat jarring. Black and white gives way to colour, and the production design, always one of the film's stronger components, comes to the fore.
An extended scene in a bacchanalian costume party which plays out while a storm rages outside is memorable. However there is so much going on and so many themes woven together that you rather lose sight of Pankraz. The flashbacks are interspersed with segments in the present, in which the mutinous Semi contradicts his father's account of the past. But ultimately, the end to the this journey is not clear. Either the message is too complex to be condensed from the novel into a film, or it is just clouded by a lack of rigor in the storytelling..
Production companies: X Filme Creative Pool Entertainment
International sales: Beta Cinema beta@betacinema.com
Producer: Stefan Arndt, Uwe Schott
Screenplay: Josef Bierbichler
Production design: Josef Sanktjohanser
Editing: Karina Ressler
Cinematography: Tom Fährmann
Music: Timo Kreuser, Kofelgschroa
Main cast: Josef Bierbichler, Martina Gedeck, Simon Donatz, Irm Hermann