Remaking the John Woo classic, Ding Sheng delivers solid genre fare that stands on its own two feet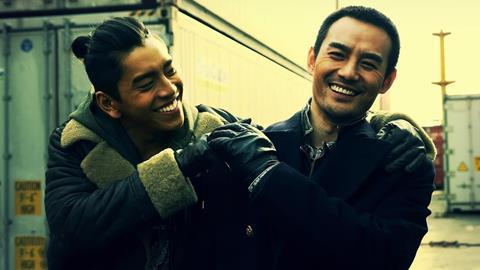 Dir: Ding Sheng. China. 2018. 110 mins
While devotees of the halcyon days of Hong Kong action cinema may decry A Better Tomorrow (1986) getting the remake treatment, it's worth bearing in mind that John Woo's seminal crime drama has already been rejigged by Wong Jing as Return to a Better Tomorrow (1994) and relocated to South Korea by Song Hae-sung in 2010 with Woo on executive producer duties. Shifting events to Mainland China, this latest retread avoids cinematic sacrilege by hitting the beats of the readily transferable plot – a criminal tries to reconcile with his estranged brother by changing his ways only to be pulled back into the underworld – without trying to replicate Woo's expressive sensibility.
Hardcore John Woo fans will likely find any trepidation unfounded
A Better Tomorrow 2018 should shoot its way to solid business from Mainland China audiences eager for a straight-up action picture. International recognition of the title could ensure a fair profile at Asian genre events and on home media platforms where hardcore Woo fans will likely find any trepidation unfounded.
Much of the original plot is intact with smugglers Zhou Kai (Wang Kai) and Ma Ke (Darren Wang) using a sea route from Qingdao to Tokyo to run drugs for Boss Ha (Lam Suet). Despite his illegal line of work, Zhou maintains a good relationship with his cop brother Zhou Chao (Ma Tianyu), at least until a botched deal leads to the death of their dementia-afflicted father and lands Kai behind bars for a three-year stretch. Ma Ke settles the score with the business partner whose betrayal has caused the fallout but is shot in the leg and crippled for his trouble.
When Kai is released from prison, no one is waiting for him. Chao, who has become a decorated officer in the meantime, spurns his brother's efforts to make amends since his prior activities have humiliated the family, while the limping Ma Ke partially blames his former partner for having been reduced to cleaning boats at the harbour. Kai tries to go straight by supplying seafood to local restaurants, but soon finds himself on a collision course with Cang (Yu Ailei), the son of Boss Ha who has wrestled control of the Japan smuggling route.
The key factor in terms of distinguishing this version is the location choice of Qingdao, a rugged city in eastern Shandong Province on China's east coast where the harsh wind forces everyone to wrap-up warm. Eschewing the flowing trench coats, sunglasses, and neon cityscape of its model, A Better Tomorrow 2018 has its cast hustling around Qingdao's historic German-influenced Old Town and sprawling shipyard clad in jeans, hooded tops, and heavy jackets. Undeniably romantic given its sweeping view of the peninsula yet also giving rise to the gritty underbelly that is typical of port cities, this is a milieu that locally born director Ding Sheng knows well.
Reprising the restless handheld camerawork of his Andy Lau kidnapping drama Saving Mr. Wu (2015), Ding takes full advantage of his hometown's topography from the winding backstreets, to the underground military tunnels that Kai and Ma Ke use for their smuggling operation, to the harbour that serves as the stage for the inevitable 'heroic bloodshed'.
This distinctive locale allows Ding to acknowledge Woo's legacy without being accused of slavish imitation. There are frequent cutaways to fluttering doves at the harbor, albeit captured in Ding's preferred earthy tones rather than Woo's trademark soft focus, and a ferocious restaurant shoot-out sees Ma Ke sliding backwards down a flight of stairs while firing away.
Amidst a boldy eclectic soundtrack selection, various renditions of Leslie Cheung's theme song 'In The Sentimental Past' are used throughout, most nostalgically when the original is played on an old record player. However, Deng is not so much trying to link his film with Woo's as evoke the general appeal of Hong Kong cinema to a 1980s Mainland audience yearning for movies that could flaunt stylistic excess and relative political freedom.
Still, it's difficult not to at least compare actors when these roles are so iconic. If not as stoic as Ti Lung, Wang Kai is commanding and compassionate enough to provide this iteration with a noble anchor, while Darren Wang puts a comedic spin on Chow Yun-fat's breakthrough role, making his 'Mark' a mischievous street punk. A plainly one-note Ma is the weak link as the pious cop brother, although the character was admittedly underwritten in the original and precious few actors exude Cheung's magnetic grace. Fortunately, the time-honored theme of brotherhood carries the film over its occasional damp patches along with Ding's assured handling of stunts and pyrotechnics.
For all of its individual qualities, A Better Tomorrow 2018 is destined to wind up as a footnote to a stone cold classic, but this is nonetheless solid genre fare that stands on its own two feet, with both guns blazing.
Production companies: Beijing Skywheel Entertainment Co., Sparkle Roll Media, United Entertainment Partners
International sales: Sparkle Roll Media, info@sparklerollmedia.com
Producers: Chen Wei, Lv Qian, Tan Zhuhui, Zhang Miao
Screenplay: Ding Sheng, Xu Yang
Cinematography: Ding Yu
Production design: Feng Ligang
Editor: Ding Sheng
Music: Komail Shayan
Main Cast: Wang Kai, Ma Tianyu, Darren Wang, Yu Ailei, Lam Suet