A beguiling, romantic, riverside charmer from France's Guillame Brac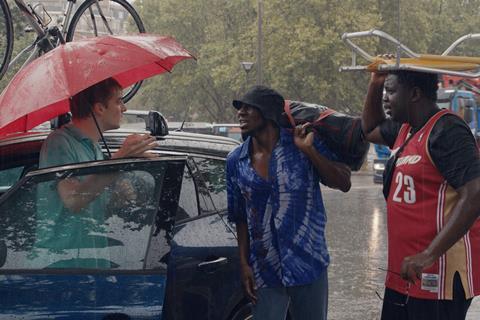 Dir. Guillaume Brac. France. 2020. 95 mins
One steamy summer night in Paris, when the streets are teeming with possibilities, Felix (Éric Nantchouang) meets Alma (Asma Messaoudene). They spend the night together, dancing by the Seine. The following morning, she nearly misses the train which will take her to join her family on holiday. Smitten, Felix decides to surprise her. Accompanied by his amiable best friend Chérif (Salif Cissé) and an unwilling carpool driver Édouard (Édouard Sulpice), Felix heads to the Auvergne-Rhône-Alpes region. But this beguiling little charmer of a film is not so much about big romantic gestures, but rather the small, delicately observed moments of connection. And while, overall, the comedy is bittersweet in tone, those moments are as warm and inviting as the high summer sun reflected in a gently flowing river on whose banks the trio sets up camp.
There's a languid kinship with the films of Éric Rohmer.
À L'Abordage! is a return to fiction filmmaking for director Guillaume Brac, whose last release was the feature documentary Treasure Island (2018). But it represents a continuation of a theme which is evident throughout much of his work – that brief escape from reality afforded by holidays. There's a languid kinship with the films of Éric Rohmer. The picture screens in Cork following a successful festival run which kicked off in Berlin's Panorama. Sunny, sweet-natured and engaging, it's a gentle pleasure but a lasting one which could connect with further audiences through a VOD platform.
"It's a very good idea, or a very bad one," says the elderly woman to whom Felix, a nurse, has just explained his travel plans. It's a delightful scene which offers a glimpse of something which is clearly more than just a carer-patient relationship, something rooted in genuine friendship. Moments like this encourage the audience to embrace Felix as a character, with his huge smile, his openness and his capacity to live, wholly and gladly, in the moment.
Another such scene beautifully captures Chérif's personality. He's lying to his boss at a supermarket in order to take time off and join Felix's excursion. And, honest by nature, he's comically terrible at it – his stumbling excuses weave in a dying or dead grandmother and an emergency trip to Africa to see his family. His boss grants him a week but warns him that his grandmother only gets to die once. "And when your exams start and you need flexible hours, remember to ask nicely." It soon becomes clear that the film plays out in a world in which, while not everything goes according to plan, there's a base note of decency and generosity in the way that characters engage with each other. And it's an eminently agreeable place to spend some time.
Alma's reaction to Felix's arrival is not all he had hoped for, but, a little petulantly, she makes space for him in her schedule. Meanwhile Chérif has bonded with Héléna (Ana Blagojevic), a young mother who has been left to cope alone with her baby daughter by a husband whose business ventures take priority. And tightly wound Édouard, forced by car troubles to stay at the campsite with Felix and Chérif, begins to relax into something approaching camaraderie. Sulpice's comic timing and awkward, angular physicality makes for a pleasing foil to Nantchouang's impulsive Tiggerish energy as Felix and Cissé's sweet, shambling Chérif.
There's not much in the way of a dramatic pay off, more a sense of well-being tempered by the beginnings of nostalgia. These may be transient connections being forged in this riverside campsite, but they are to be treasured nonetheless.
Production companies: Geko Films
International sales: The Party Film Sales clemence.lavigne@thepartysales.com
Producer: Grégoire Debailly
Screenplay: Guillaume Brac, Catherine Paillé
Cinematographer: Alan Guichaoua
Editing: Héloïse Pelloquet
Main cast: Éric Nantchouang, Salif Cissé, Édouard Sulpice, Asma Messaoudene, Ana Blagojevic, Martin Mesner, Lucie Gallo, Cécile Feuillet, Nicolas Pietri