Thriller starring the popular Xu Zheng is set in China's world of high finance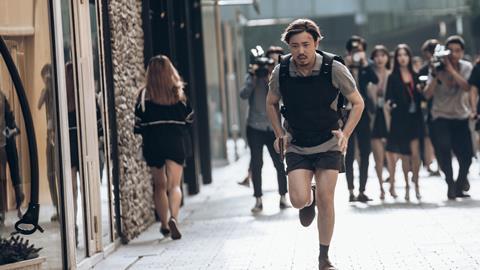 Dir: Ren Pengyuan. China. 2018. 113 mins
One of the domestic posters for A or B suggests a farce set in the world of high finance via an absurdist image of a flustered Xu Zheng '(Lost In Thailand) laundering' stacks of banknotes by giving them a soapy bath in his skyscraper office. The film is actually a thriller, but writer-director Ren Pengyuan packs enough far-fetched narrative developments into this tale of a self-made billionaire forced to play a multiple choice game by a merciless kidnapper that it narrowly avoids charges of false advertising.
Xu Zheng certainly works up a sweat and even makes a concession those who generally enjoy him in lighter fare by frantically running around in his boxer shorts for the final set-piec
With a readily marketable premise and popular star, A or B should perform well locally, especially in the urban Cyhinese centres where there is an audience for slick suspense pictures. Internationally, decent streaming revenues should follow its moderate theatrical exposure as fans of upscale Asian thrillers may be similarly lured when it opens in the UK and US on May 4.
As with The Great Hypnotist (2015), the usually rambunctious Xu's previous detour into thriller territory, A or B casts the actor as a 'master of the universe' type who has the rug pulled out from under him and finds a measure of humility as a result. He plays Zhong Xiaonian, the figurehead of a major investment company who uses market-rigging tactics to boost stock valuations. Zhong's manipulations have brought immense wealth and a beautiful home, although his marriage to the dejected Wei Simeng (Wang Likun) is on the rocks.
Still, the supremely confident Zhong seems to have everything under control, at least until he wakes up trapped in his house by an unseen antagonist who communicates demands by radio. Zhong is told that at 9:30am for the next five days, when the market opens, he must make a choice between two options. First up, he has to decide between announcing his divorce or having his tax evasion exposed. If he doesn't pick 'A' or 'B', then the kidnapper will execute both.
The ensuing machinations involve Zhong's ambitious colleague Tang Wanyuan (Wang Yuanhui), sultry jewelry business heiress Zhang Yi (Zhu Zhu), and finance reporter Tian Yu (Duan Bowen) who becomes Zhong's unlikely ally after hearing the businessman's radio distress call while out on assignment.
A or B flirts with being a single location thriller with Zhong imprisoned in the luxury house that was presumably meant to provide a respite from professional stresses. However, Ren is eager to accommodate car crashes, clandestine meetings, and a bomb threat, so soon has Zhong resourcefully working on an escape plan. The film is sleekly packaged with some smart moves in its initial third as cinematographer Liu Yizeng takes full advantage of Zhong's darkened modernist home before Ren settles into a routine series of reveals and double-crosses with Li Nanyi's judicious editing keeping things ticking over smoothly even as initial curiosity dissipates. Ren has so much plot to get through, though, that a string of wrap-up scenes are awkwardly pushed to the end credits.
Like many recent Chinese thrillers, the rollercoaster events of A or B largely play out in public with Zhong's empire unraveling through television news reports and social media websites while the climax is staged with the media in attendance. The circus that develops as a result of Zhong's mysterious disappearance illustrates the links between stocks and celebrity in a notoriously volatile market where perception is everything. Yet the film stops short of lacerating the cult that surrounds China's unscrupulous financial power players, preferring to take the charitable view that the likes of Zhong are redeemable when forcibly reminded of the truly important things in life.
Wearing an ill-fitting hairpiece and relying on audience goodwill from his much loved turns in trendsetting comedies, Xu certainly works up a sweat and even makes a concession those who generally enjoy him in lighter fare by frantically running around in his underwear for the final set-piece. Unfortunately, Ren's busy screenplay doesn't allow time for the actor to generate much sympathy. Zhong's white collar criminality supposedly stems from a desire to give his wife a "good life" and trips to a small wonton shop suggest a humble background, but such cursory details aren't enough to make one invest in a central protagonist who pretty much deserves everything he gets.
Production companies: Bolle Group, Cinematrix Productions Inc., Horgos Interstellar Motion Picture Company Ltd., IQIYI Pictures, Sova Entertainment Co. Ltd., Xiaomi Pictures Co., Zhejiang Tianyi Movie & TV Company
International sales: https://www.cmc-pictures.com/
Producers: Liu Ruifang, Kevin Zhang
Screenplay: Ren Pengyuan
Production design: Li Jianing
Editing: Li Nanyi
Cinematography: Liu Yizeng
Music: Peng Fei
Cast: Xu Zheng, Wang Likun, Wang Yanhui, Duan Bowen, Zhu Zhu, Simon Yam