Anna Kendrick and Blake Lively face off in Paul Feig's schlocky thriller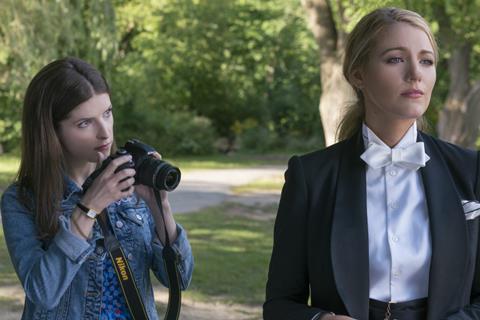 Dir: Paul Feig. US. 2018. 117mins
A Simple Favor wants it both ways, hoping to be a stylish, twisty, trashy thriller while simultaneously acting superior to the genre's slinky pleasures. Those conflicting strategies do the film no favours. Anna Kendrick and Blake Lively dig into this sordid story of a timid widowed mother drawn to a glamorous neighbour, unearthing some biting insights about the ways in which women are marginalized — or worse, diminish themselves. But the movie becomes increasingly ludicrous and cynical, its purported nasty good time eventually turning sour.
Moments of emotional depth get lost amidst A Simple Favor's superficial sheen
Releasing September 14 in the US and September 20 in the UK, this Lionsgate offering features fabulous outfits and a snarky attitude, bolstered by Kendrick's and Lively's box-office appeal. (Co-star Henry Golding, recently in Crazy Rich Asians, will be an additional attraction.) Although reviews may be muted, A Simple Favor looks to be shrewd counterprogramming in comparison to more male-driven contemporaries The Predator and White Boy Rick.
Based on Darcey Bell's 2017 novel, the film stars Kendrick as Stephanie, a sunny, slightly dorky mother who's in awe of Emily (Lively), a well-dressed, ultra-confident P.R. executive whose young son is best friends with her boy. Intimated by Emily's style, beauty and cutting asides, Stephanie finds herself opening up to this woman, admitting how she's struggling since losing her husband and her brother in a fatal car crash. And then one day, Emily goes missing, prompting Stephanie to investigate her disappearance.
A Simple Favor is directed by Paul Feig (Spy, Bridesmaids), who's made his name helming broad female-led comedies. His latest is a tarter farce full of seductive eye-candy as shabby Stephanie is seduced by Emily's extravagant lifestyle, amazing house, impeccable fashion sense and gorgeous author husband (Golding). The Serge Gainsbourg and Brigitte Bardot songs on the soundtrack announce that A Simple Favor aspires to be a chic, witty mystery, one in which the plot's more lurid elements — murder, sex, shocking secrets — are meant to be savoured.
For a while, Feig and his cast walk the line between expressing derision and affection for the sinful narrative delights that A Simple Favor promises. With hints of Single White Female and The Girl On The Train, the movie smartly casts its two leads to type, utilizing Kendrick's nervous sweetness and Lively's icy reserve to create a power imbalance in which Stephanie constantly feels inferior to her snotty, self-assured pal. But as Jessica Sharzer's screenplay begins unveiling its surprises — many of them intentionally testing the bounds of believability — A Simple Favor struggles to maintain a consistent attitude about its guilty-pleasure plotting.
Occasionally, the movie can be a genuinely engaging examination of how women like Stephanie allow themselves to be pushed around, defaulting to a kindly, apologetic demeanour so as not to make waves. Kendrick demonstrates the pain within this grieving mother who has learned to slap on a smile for a world that's indifferent to her problems. At the same time, the Oscar-nominated actress supplies enough hints of Stephanie's darker side to keep us on edge.
But those moments of emotional depth get lost amidst A Simple Favor's superficial sheen. Lively has nowhere to go after establishing what a cold, calculating woman Emily is. Lively plays her one note expertly — it's fun watching Emily torment her insecure friend — but there's little room for revelation in the performance. And Golding is left to be hunky and somewhat enigmatic, never completely reassuring us that his character isn't behind his wife's disappearance. But in the film's later reels, he (along with his co-stars) is forced to sell a preposterous series of revelations and betrayals that jettison any sense of reality.
The filmmakers also attempt to graft a feminist message onto their summer-beach-read thriller, but neither is handled deftly enough to really captivate. Feig doesn't have the élan to maximize the story's juicy shamelessness and, as a result, A Simple Favor's campy catfight tone feels laboured rather than relished — it's a movie that's too mannered to bare its claws.
Production companies: Lionsgate, Hercules Bron Creative Partnershup, Feigco Entertainment
International sales: Lionsgate internationalsales@lionsgate.com
Producers: Paul Feig, Jessie Henderson
Screenplay: Jessica Sharzer, based upon the novel by Darcey Bell
Production design: Jefferson Sage
Editing: Brent White
Cinematography: John Schwartzman
Music: Theodore Shapiro
Cast: Anna Kendrick, Blake Lively, Henry Golding, Andrew Rannells, Linda Cardellini, Jean Smart, Rupert Friend