A star has been rebooted in Bradley Cooper's directorial debut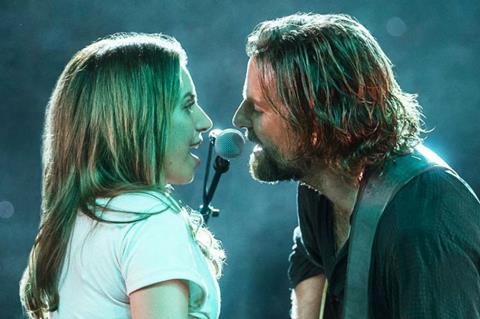 Dir. Bradley Cooper. US. 2018. 107 mins.
One redeeming facet of a vanity project is that its makers are likely to take it very seriously indeed. If there's one thing that stands in favour of Bradley Cooper's A Star Is Born, it is absolute sincerity on the part of its makers, actor/writer/debut director Cooper and his co-star Lady Gaga. Both have something to prove here: for Gaga, it's that she can act; for Cooper, it's that he can direct, sing and play rock, and speak in a super-manly basso cowboy rumble.
Gaga exudes sweet but steely candour, and her performance as a regular girl with something to say transcends the clichés
The fourth screen iteration of a vintage property, A Star Is Born won't be for everyone: somewhat resembling a de luxe episode of TV series Nashville, it may not impress lovers of previous Stars, nor is it likely to appeal to fans of Gaga's outré performance-art persona, a skin she determinedly sheds here. But, taken on its own terms as an unashamedly anachronistic attempt to muster the emotional intensity of the Hollywood melodrama tradition, Cooper's film must be at least grudgingly acknowledged as a success. And both stars, Gaga in particular, emerge with honour. That might not be enough to draw a wide public, although the film could register respectably with older viewers who want old-fashioned romance with a grittier touch than Mamma Mia! and a less artsy one than La La Land.
The template is the same as in the previous features entitled A Star Is Born - 1937, 1954 and 1977, directed respectively by William Wellman, George Cukor and Frank Pierson, with eminent screenwriters including Dorothy Parker, Moss Hart and Joan Didion & John Gregory Dunne. To wit: an established male star loses his shine as he's eclipsed by the talented ingénue who loves him.
Here, Cooper steps into the Fredric March/James Mason/Kris Kristofferson role: he's Jackson Maine, a country rocker with a drinking problem and a love-hate relationship with his big brother and manager (Sam Elliott). One night, looking for a post-gig drink, he stumbles into a drag bar where he meets this film's answer to Janet Gaynor/Judy Garland/Barbra Streisand. Played by Gaga, she is Ally, a determined working-class girl who dreams of being a singer, and who dazzles Jackson with a version of 'La Vie en Rose' flavoured not just with ham but the ripest jambon de Paris. After a chaste night together, discussing her dreams and sampling her songwriting skills, Jack is smitten and invites Ally to join him on stage – then signs her up as regular fixture in his band.
But Ally is signed up by snaky British music maven Rez (Rafi Gavron). Before long her natural jejune charisma is jazzed up with a glitzy image and she's performing brash R&B pop with backing dancers – in other words, she's effectively become Lady Gaga. The now-married couple's relationship turns sour as Jack's career takes a downswing and Ally's hits the heights, with inexorably tear-jerking results.
The strangest thing about the film is that it emphasises the supposedly authentic, natural side of Gaga, as per her recent albums, showing Ally's talent as grounded in the artless expression of simple feelings (as witnessed by the Carole King LP sleeve on her bedroom wall), while the very thing that made Gaga famous, her hyper-contrived flamboyance, represents dangerous compromise for Ally. Jack's music – a rather leaden mix of folk and stomping country rock – represents the macho version of this authenticity.
Meanwhile, the film pays awkward lip service to Gaga's artier constituency, showing Ally doted on by a squad of drag queens and providing her with an off-the-peg gay bestie (Anthony Ramos) whose sole function is to offer encouragement of the 'you-go-girl' vareity. Characterisation is thin all round, in fact, with veteran comic Andrew Dice Clay in a cookie-cutter role as Ally's doofus Italian-American dad, a limo driver who coulda been as big as Sinatra, honest, and Dave Chappelle giving more grit than the role demands as Jack's supportive buddy. As for Elliott, it's his usual gnarly vet routine, but still one of the more organic things here.
The leads aren't much more subtly limned. Ally is introduced as a rebel with a volatile streak, although these character elements soon drop out of the equation. And Jack's decline is less than entirely convincing as we don't get much sense of his history, beyond issues with his brother and late dad. That said, the two leads keep the show respectably afloat. Cooper's Jack is more affably shambling than properly persuasive as a man with feral demons, and he often appears to be thinking, "What would Jeff Bridges do?" - but he projects a muscular, blue-eyed warmth that cowboy fanciers may find irresistible.
As for Gaga, who flexed her thesping muscle in TV's American Horror Story, she exudes sweet but steely candour, and her performance as a regular girl with something to say transcends the clichés. By the time she's sung a soupy closing ballad and given a distinctly Garlandesque last look to camera, there's little doubt: a star has been rebooted.
The film is sketchy on the mechanics of fame today: despite a throwaway line about algorithms, social media doesn't seem to exist, and there's no sense that Jack's meltdown at the Grammy awards has sparked so much as a shocked tweet. But when it comes to the concert scenes, Matthew Libatique's vivid camerawork whips up a palpable sense of event – notably in live performances filmed at the Coachella and Stagecoach festivals. His lensing also thrives on intimacy: it's hard to remember a film in which the stars' facial textures (Cooper leathery, Gaga vulnerably soft) were so acutely captured.
Enthusiastic performances apart, the songs themselves – written by Cooper and Gaga with various collaborators - are unmemorably generic. Ally's MOR balladeering is offset by Jack's meat-and-potatoes repertoire, performed by Cooper with Neil Young's backing band Lukas Nelson and Promise of the Real - a style of music that's likely to be anathema to Gaga fans.
Production companies: Warner Bros. Pictures, Live Nation Productions, Metro Goldwyn Mayer Pictures, Joint Effort
Worldwide distribution: Warner Bros. Pictures
Producers: Bill Gerber, Jon Peters, Bradley Cooper, Todd Philips, Lynette Howell Taylor
Screenplay: Eric Roth, Bradley Cooper, Will Fetters
Cinematography: Matthew Libatique
Editor: Jay Cassidy
Production design: Karen Murphy
Music: Bradley Cooper, Lady Gaga, Lukas Nelson
Main cast: Lady Gaga, Bradley Cooper, Sam Elliott, Andrew Dice Clay, Dave Chappelle