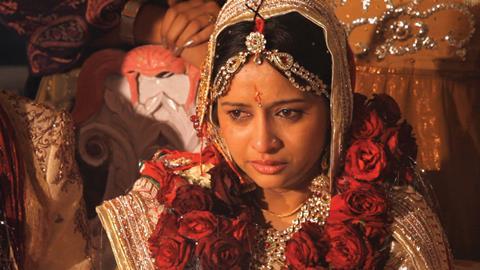 Dirs: Sarita Khurana, Smriti Mundhra. USA-India. 2017. 97 mins.
The subject of Indian arranged marriages is a deceptively tricky one to dissect in a documentary, existing as it does at the point where Western cultural beliefs and Eastern traditions meet head to head. And while this triptych portrait of three modern Indian women who have decided, for various reasons, to wed in this way provides some insights, it feels like a tiny chink into a vast and complex subject.
The camerawork picks up on subtle body language which adds a depth missing from the bland sound bites
It's a hot button theme: the question of whether feminism - or even just careerism - can coexist with a rather arcane system in which a wife's rights and identity can be subsumed by her husband's. And as such, while it doesn't take a stance, A Suitable Girl should form part of a broader debate. Festival screenings and programming within strands which explore women's issues should follow. The sense of an incomplete picture and the lack of strong opinions from its subjects mean that this might be a tough sell theatrically, although television play is a possibility.
For plump, sunny Dipti, marriage is an all-consuming obsession. She pores over the small ads page of the newspapers, brow furrowed as she scours each entry for clues suggesting an appropriate candidate for a life partner. "How can he be spiritual and modern?" she muses to her mother, who hovers behind anxiously. There's a sickly sense of desperation which hangs over the household; Dipti is nearly thirty and prones to fits of desperation about her unmarried status.
Currently working for Ernst and Young, Ritu is fiercely bright and determined. But having bought a stay of the inevitable to study for a Masters in banking and insurance when she was 22, she is now resigned to marriage. Her ebullient mother, an 'alliance consultant' or marriage broker by trade, throws herself into the project. But pragmatic Ritu, who shows more gushing enthusiasm for macroeconomics than she ever does for marriage, approaches the whole enterprise like a business merger.
Social butterfly Amrita packs as much entertainment as Delhi can offer into her schedule. Her decision to marry and move to Nokha, Rajasthan, takes many of her cosmopolitan friends by surprise. Life within her new husband's traditional household is not quite what she anticipated, her western clothes packed away in favour of an array of saris and her dreams of working for the family business likewise shelved.
The camerawork picks up on subtle body language which adds a depth missing from the bland sound bites. Only occasionally does anyone say anything striking or contentious: Amrita's outburst about the "idiotic traditions" which govern the way she must present herself as a wife; Ritu's fiance's revelation that, given the choice, he would rather be born a European and marry when he was forty. "But if not her, then someone else, so why not?"
There are two key issues which limit the film's impact. Firstly, the decision to cut back and forth between two different marriages — presumably to contrast the ceremonies by income bracket — is a little inelegant, lessening the narrative impact of both. Secondly, the absence of a character who has rejected the institution altogether gives a skewed perspective on a topic which deserves to be explored as fully as possible.
International sales: Orly Ravid, The Film Collaborative / MSK orly@thefilmcollaborative.org
Producers: Jennifer Tiexiera, Sarita Khurana, Smriti Mundhra
Executive producers: Cal Amir, Ken Castelino
Screenplay: Jennifer Tiexiera, Sarita Khurana, Smriti Mundhra
Cinematography: Andre de Alencar Lyon, Naiti Gamez
Editor: Jennifer Tiexiera
Music: Gingger Shankar
Features: Dipti Admane, Amrita Jhanwar, Ritu Taparia, Seema Taparia