Dir. Elisabeth Subrin. US. 2016. 98 mins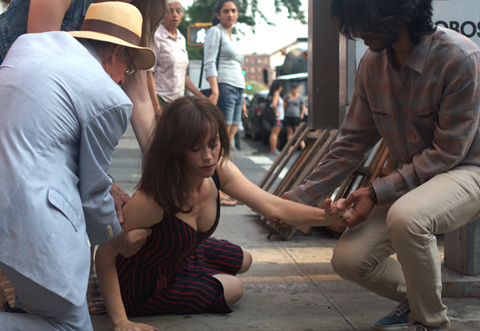 A workaholic television actress in a successful but stultifying series is close to burning out. In order to get some perspective on the life she is no longer sure she wants, she reconnects with the past. Abruptly leaving LA for New York, she seeks out friends from her off-Broadway theatre company days. But her presence disrupts the world she unceremoniously abandoned twenty years before.
Subran is an empathetic filmmaker with an obvious respect for actors, both as collaborators and as subjects.
The feature debut from award-winning short film director Elisabeth Subrin is a rewarding, if occasionally solipsistic, study of a complex, mature woman at a crossroads in her life. The quality cast – Maggie Siff (Mad Men, Sons Of Anarchy) stars, with support from Cara Seymour (The Knick) – together with the naturalistic approach should make this picture a natural fit for festivals. There are thematic, if not tonal, parallels with Olivier Assayas' Clouds Of Sils Maria, and it's likely that the film will appeal to a similar demographic with a taste for sophisticated storytelling about well-developed female characters.
Forty-four year old Anna (Maggie Siff) is at a career high. An Emmy-winning actress on a long-running television series, she has become public property. She is generous with the star-struck fans who approach her, even as they seek a connection with the character she has started to chafe against. Self-medicating on ritalin and cocaine in the aftermath of a debilitating auto-immune condition, Anna is not even convinced she is an actress any more. Having mulched the stack of scripts her agent sent her by chucking them in the swimming pool, Anna heads back to New York, where her career began.
Her unexpected arrival at the birthday party of Kate (Cara Seymour), her former romantic partner as well as creative collaborator, is not entirely welcome. Kate feels that there is unfinished business between them and harbours some resentment towards Anna, although not, it turns out, for the reasons we initially assume. Kate has been working with Isaac (John Ortiz), the other member of the three-man theatre company which launched Anna to stardom. Their project is a new play featuring a neurotic, suicidal actress who is all too clearly based on Anna.
The quality of the performances goes some way towards mitigating the navel-gazing tendencies of the dialogue. Seymour, in particular, gives a lovely, textured vulnerability to recovering alcoholic Kate.
One of the less successful elements is the soundtrack. At the film's opening, Subrin makes playful use of an abrasive track by Micachu (aka Mica Levi, who crafted the memorable score for Jonathan Glazer's Under The Skin). So it comes as something of a disappointment that the subsequent musical choices are all rather inoffensive and bland.
While Subran, who made her name as a visual artist, doesn't exactly break new ground with the film, her theme will likely strike a chord. Even gilded lives can be messy and plagued by doubts; motivations are complicated. This debut marks her out as a talent to watch: an empathetic filmmaker with an obvious respect for actors, both as collaborators and as subjects.
Production company: Speculative Pictures, Durga Entertainment
Contact: www.awomanapart.com
Producers: Shrihari Sathe, Scott Macaulay
Screenplay: Elisabeth Subrin
Cinematography: Chris Dapkins
Editor: Jennifer Ruff
Production design:Erin Beaupre
Main cast: Maggie Siff, Cara Seymour, John Ortiz, Khandi Alexander, Dagmara Dominczyk, Laila Robins, Eszter Balint