A scandal shakes a successful, unconventional school in this absorbing documentary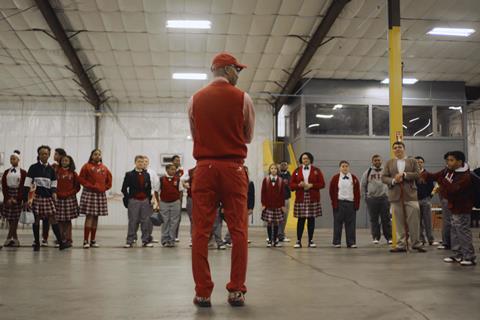 Dir: Dan Chen. US. 2021. 91mins.

Housed in an unprepossessing warehouse on the sprawling fringes of a small town in rural Louisiana is an educational phenomenon. The TM Landry Prep School has an atmosphere akin to a Baptist church; its students — predominantly black and underprivileged — have the fervour of true believers. And though its methods are unconventional, the success rate is extraordinary. All of the seniors get offers of college places; some 30 percent of them to Ivy League establishments. It's a heartwarming story. Until it isn't. During the course of the filming, a scandal breaks. And what was already an involving film, focussing on the school's charismatic founder Mike Landry and four exemplary students, takes on an added depth and complexity.
Much of its power comes from an astute choice of central characters
The New York Times' expose which lifts the lid on the school's dubious practices drops into the lives of the four students like a grenade. It's a devastating blow to kids who are already ragged from the pressure of attaining the high standards that the school demands. But for the fortunate documentary filmmaker who happened to be there at the right time, it's a rare gift. While the film that results is unlikely to be the story that director Dan Chen expected to tell in his first feature documentary, this left-field swerve into darker territory is what will likely make this a title of considerable interest for arthouse and documentary-specialist distributors.
The controversy might be Accepted's secret weapon, but much of its power comes from an astute choice of central characters. Alicia is a ferociously bright teenager with a thirst for knowledge, which is evident in the towering piles of books, bristling with Post-it Notes, that line her room. Isaac is a geeky kid who saw his brother triumph at TM Landry, and dreams of becoming an engineer. A striking beauty given to extravagantly experimental hairstyles, Adia was raised by her grandmother, and struggles with self-doubt. And Cathy has shouldered the responsibility of caring for her widowed mother and her two severely handicapped older sisters. She used the compensation from a car accident to pay for the tuition fees at TM Landry. All are clearly motivated and driven young people. And this is key. Footage of Mike Landry, who started the school with his wife Tracy in the kitchen of their suburban family home, suggests that his talents lie as a motivational speaker rather than as an educator per se.
Part drill sergeant, part preacher, Landry browbeats his students — a self-selected band of high-achievers — into pushing themselves to the breaking point. They talk of twelve-hour school days. Of nervous tics like hair-pulling; of stress-induced eating disorders and body dysmorphia. All this is regarded as a reasonable price to pay for success in an educational system in which the odds are stacked against the poor and people of colour.
And this is the aspect that the film, which is invested in Landry's mythology but wise to his tricks, wrestles with in the second half of the running time. While Landry's bullying and the accusations of physical abuse are beyond the pale, the other charges, of "falsifying" college admissions, are more of a grey area. Shortly after the TM Landry story broke, another, bigger scandal hit the news — a huge college-admissions criminal case which implicated numerous privileged and wealthy individuals, including the actress Felicity Huffman. Certainly Landry encouraged his students to lie on their forms. But there's an argument to be made that he was just trying to give the kids a better chance in a system which seems to have been designed to be gamed.
Production company: Concordia
International sales: Submarine, info@submarine.com
Producers: Jason Y. Lee, Dan Chen, Jesse Einstein, Mark Monroe
Cinematography: Daphne Qin Wu, Dan Chen
Editing: Joshua Altman, Arielle Zakowski, Jean Rheem
Music: Nathan Matthew David
Featuring: Alicia, Cathy, Adia, Isaac