Director Ben Affleck and star Matt Damon reteam for this appealing look at Nike's courting of basketball star Michael Jordan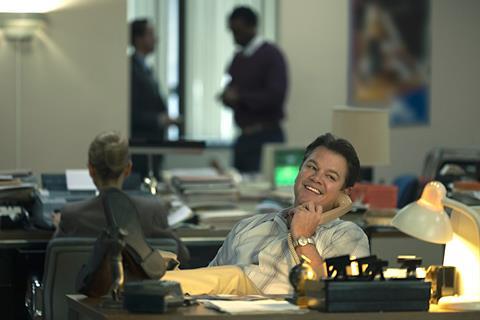 Dir: Ben Affleck. US. 2023. 111mins
A crowd-pleaser made with panache and smarts, Air tells the true story of the then-underdog shoe company Nike as it courted rising star Michael Jordan, hoping that signing him to an endorsement deal would reverse its fortunes. Matt Damon is immensely appealing as a middle-aged basketball guru who bets everything on landing Jordan, and director Ben Affleck produces one of his most irresistibly entertaining dramas — albeit one that never forgets the capitalist reality of this feel-good story. Everyone in Air is out to make money, and the film neither romanticises nor condemns that attitude; an approach that is refreshingly honest about the cutthroat sports business.
A crowd-pleaser made with panache and smarts
Following its SXSW premiere, Air will open in UK and US cinemas on April 5. (Amazon is handling theatrical distribution in America, with Warner Bros. spearheading the overseas release.) Although Jordan is only a peripheral figure in the film, his popularity will help entice basketball fans; a cast that features old friends Damon and Affleck alongside Jason Bateman and Viola Davis may broaden the appeal. With echoes of Moneyball, which was also about the machinations that occur away from the game, the picture should enjoy glowing reviews and warm word of mouth.
In 1984, Sonny (Damon) is Nike's designated basketball guru, responsible for scouting up-and-coming talent that the company might try to sign to a sneaker deal. But Nike does not have the clout in the basketball world of competitors Adidas and Converse, and there are rumours that CEO Phil Knight (Affleck) may have to eliminate the basketball division so Nike can focus on its strengths in the jogging market.
Determined to keep his job, Sonny suggests a radical plan: they throw their entire basketball budget at Michael Jordan, who has just been drafted into the NBA and could be a superstar. The problem is, Nike has heard that Jordan is not interested in the company, prompting Sonny to court Jordan's no-nonsense mother Deloris (Davis) directly.
Most people watching Air will know the outcome — Jordan's lucrative, long-running relationship with Nike is legendary — but, even so, Alex Convery's lively screenplay is populated with enough colourful characters and crisp office drama to keep viewers engaged. Much like Affleck's Oscar-winning Argo, Air has a brisk pace and a smooth execution, although it lacks that earlier film's life-or-death stakes. But it is a credit to Affleck and his cast that they approach this material with the right perspective: careers are on the line and some legacies hang in the balance, and yet there is also a certain breeziness to the storytelling that suggests an acknowledgement of the relative unimportance of a shoe contract.
Which is not to suggest that Air succumbs to glibness in its clear-eyed depiction of haves and have-nots. Sonny does not have much in his life outside of his job, and he fears he would be unemployable if Knight (played by Affleck with amusing aloofness and vanity) fires him. Knight's wealth is unobtainable for a working stiff like Sonny, who visits Deloris because he knows she is the key to convincing her son. The Jordans may not have much money but Deloris recognizes Michael's potential, and Davis is superb at conveying this shrewd, blunt mother. Indeed, her scene near the end involving some tricky negotiations is a gem, illustrating the ways that corporations often exploit athletes for their own prosperity. Air never lets us forget how much that money impacts every decision the characters make.
Damon brings soul and vulnerability to Sonny, whose charm and optimism belies a hint of desperation underneath. Playing a cynical Nike executive, Bateman is wryly funny but can also be quite poignant while discussing the gamble Sonny is making with all their livelihoods. And Matthew Maher shines as Peter Moore, the nerdy but brilliant designer who comes up with the look for the iconic Air Jordan shoe. Air could be thought of as a procedural — or almost a heist film — in which a group of plucky outcasts band together to defeat their rivals and land Jordan, and Affleck allows each member of his ensemble have a couple of highlight moments.
It is a risky strategy to keep Jordan mostly off-camera. (He is played by Damian Young, although the rare times we get a glimpse of Jordan it is always with his back to the camera.) If handled poorly, the decision could seem tone-deaf, celebrating these Nike executives instead of the incredible athlete whose greatness made Air Jordans so successful. But without spoiling Air's nuanced ending, let it be said that Affleck finds a way to subvert those concerns, rendering Jordan as larger than life and, ultimately, the film's star — even though he is barely on screen.
Production companies: Artists Equity, Mandalay Pictures
International distribution: Warner Bros
Producers: David Ellison, Jesse Sisgold, Jon Weinbach, Ben Affleck, Matt Damon, Madison Ainley, Jeff Robinov, Peter Guber, Jason Michael Berman
Screenplay: Alex Convery
Cinematography: Robert Richardson
Production design: Francois Audouy
Editing: William Goldenberg
Main cast: Matt Damon, Ben Affleck, Jason Bateman, Viola Davis, Chris Messina, Matthew Maher, Marlon Wayans, Jay Mohr, Julius Tennon, Chris Tucker