Dir Jerome Bonnell, France, 2015, 86 mins.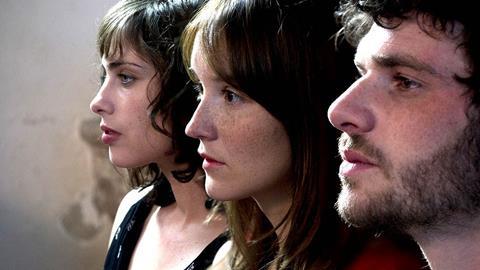 French movies are often talky but until writer-director Jérôme Bonnell's All About Them came along it's been ages since a French film offered as much kissing as it does dialogue. The film's premise — a young man and woman who have been a couple for four years both fall in love with the same woman without letting their official partner know — is engagingly brought to life by a physically appealing and talented trio. (The film's original title, A Trois on y va could be playfully translated as One, Two, Three-way.) This is a smart, frequently funny and sexually frisky take on the point in one's twenties when it's time to tip over into being a full-fledged grown-up.
The three protagonists negotiate with the little devils on their shoulders until somebody starts kissing or caressing the shoulder in question.
With humour, emotional stakes worth fighting for and gung-ho (but non-salacious) girl-on-girl action, this shouldn't be difficult for art house distributors beyond France to market to discerning and/or curious viewers.
After putting Emmanuelle Devos and Gabriel Byrne through convoluted romantic paces in Paris on the longest day of the year in Just A Sigh, Bonnell's sixth feature starts on Bastille Day complete with fireworks — a hint of the sparks and emotional bursts to come.
Sweetly down-to-earth Micha (Felix Moati) and enigmatic Charlotte (Sophie Verbeeck) are comfortably in love. He works with animals in a lab and she mostly devotes herself to fixing up the ramshackle house they've bought together near the northern French city of Lille where the film is set.
Micha has just returned from a five-day trip to meet researchers studying "the feminisation of fish" (caused by hormones humans are excreting into the water) when Charlotte's best friend, Melodie (Anais Demoustier), rings the bell.
The dynamic isn't at all clear at first and so much the better from a pleasurable viewing standpoint. But it turns out that Charlotte and Melodie have been secretly indulging in a carnal relationship so intense they can't bear to be apart for more than a few days. And while Micha is utterly devoted to Charlotte, he also has a serious crush on Melodie who doesn't mind one bit.
The three protagonists negotiate with the little devils on their shoulders until somebody starts kissing or caressing the shoulder in question.
The proceedings are sometimes achingly bittersweet and sometimes in the arena of well-timed slapstick such as the sequence where the two women are going at it with flushed abandon when Micha comes home early without warning. Melodie, age 26, is a no-nonsense lawyer so it's doubly interesting to observe the gap between the rigor of her professional life and the utter mess of her private life. After all, Melodie is the only one with a complete overview of who's cheating on whom.
Bonnell loves close-ups and extreme close-ups, an approach which suits this intimate tale that's about lying and cheating yet manages to register more as comedy than drama. The women are casually radiant and Moati is endearing in a puppy dog way. While the denouement makes sense, it may not be to all tastes. But it's hard to find fault with anything leading up to it.
Production companies: Rectangle Productions, Wild Bunch, Scope Pictures, France 3 Cinema
International sales: Versatile, info@versatile-films.com
Producer: Edouard Weil
Screenplay: Jérôme Bonnell in collaboration with Maël Piriou
Cinematography: Pascal Lagriffoul
Editor: Julie Dupré
Production designers: Eugénie Collet, Florence Vercheval
Music: Mike Higbee
Main cast: Anaïs Demoustier, Félix Moati, Sophie Verbeeck