HBO's documentary recounts the story of Woody and Mia, but it's Dylan Farrow who emerges to command the gaze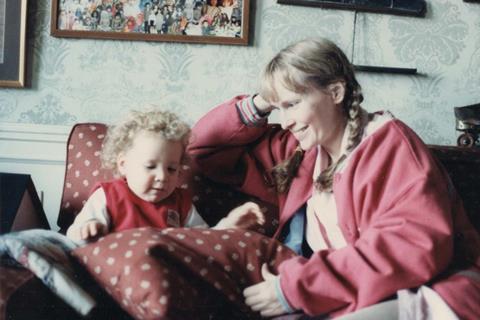 Allen V. Farrow feels its way around some very dark corners in its 4 x 60-minute running time. The controversy around Woody Allen's ill-fated relationship with Mia Farrow, his affair with and later marriage to her adopted daughter Soon-Yi Previn, and the allegations of abuse of their-then seven-year-old child Dylan seemingly won't ever go away, and Allen V. Farrow provides a good reason as to why it shouldn't. The pain and anguish expressed by Mia Farrow and her now-adult daughter Dylan throw a hard light on a cold ugliness that you can't look away from simply because it's unpleasant, or you really liked Hannah And Her Sisters.
Dylan Farrow will carry on telling her story until people listen, and really hear her
The series, by On The Record's Amy Ziering and Kirby Dick, tells a disturbing story, as with Michael Jackson, or Roman Polanski, about bad things which are hiding in plain sight as society slowly drags itself to a point where it can focus past the dazzling spotlight of fame. The documentary is unexpectedly frank. Although he did not participate, Allen V. Farrow uses the New York director's audio recording of his controversial 2020 memoir A Propos Of Nothing alongside home footage shot by Farrow in the Connecticut home where she mostly lived with her tribe of biological and adopted children. Distressingly, that includes video of the child Dylan testifying as to the alleged abuse by Allen in its immediate aftermath. That alone will draw headlines, as will Dylan's face-to-face meeting with the prosecutor who declined to put her on the stand back in 1992, even though he felt Allen had a case to answer.
What might stop Woody Allen fans in their tracks this time won't be the he-said, she-said testimony of his 12-year relationship with Farrow; their films together, her growing adoptive brood, his creepy – even at the time – focus on making films about young girls in relationships with much older men. Or its explosive end, when Farrow found explicit Polaroids of the 21-year-old Soon-Yi in Allen's apartment. It will be Dylan Farrow, a brave woman who has walked a very lonely road as a child, when she was the focus of Allen's obsessive behaviour, and now, when she stands against him again. Allen's cold, obfuscating tones on taped phone calls belie his public image, while Farrow's fear of him is surprising, and feels real. Yet it's Dylan who will be in everyone's thoughts going forward, when they contemplate 85 year-old Allen, his past, present or future work.
Allen V. Farrow is best in tight focus on the couple and their story. It loses ground and becomes palpably less impactful when it tries to broaden its relevance out to cultural impact ("great art made by bad people") or the wider picture of 'parental alienation' (where an allegation of abuse is made as a custody ploy). The story's over-riding concern – of care for Dylan and the need for society to listen to people like her – makes itself heard in the peculiar tale of Allen and Farrow, a New York movie-making power couple of the 1980s who fell apart so spectacularly in 1992. The fact they made 13 films together in a decade, or that Mia "could not have been nicer, sweeter or more attentive to my needs," when they first met, exploded into acrimony when the 56 year-old was found out in an affair with Soon-Yi, whom Allen had met when she was a child.
The abuse allegations involving Dylan followed shortly, and the world was bewildered by two separate legal proceedings: one in Connecticut, where the molestation had allegedly taken place, and a custody case in New York after Allen sued Farrow for the care of Moses, whom he had also adopted, Dylan and his biological son Satchel (who now goes by his middle name of Ronan). Allen lost the New York custody case; the Connecticut prosecutor Frank Maco declined to proceed with the abuse charges although there was "probable cause". A report Maco commissioned from Yale New Haven threw doubt on Allen's culpability, meanwhile. The director carried on working. "It was of no consequence," he says in the audio recording of the book, which was cancelled by Hachette after internal and external pressure before eventually releasing last year. "I went about my business and worked."
"No amount of punishing Woody would be worth punishing Dylan," said Farrow.
Mia Farrow – and this is very much her and Dylan's story – is an unusual person. The daughter of Irish film star Maureen O'Sullivan and a young bride herself – she married Frank Sinatra when she was 21 and he was 50 – there are parts of her background which clearly explain her compulsive need to care for children. (Her brood would increase to 14 biological and adopted children, not all of whom have survived.) She herself was one of seven siblings who lost both her older brother and her father at a young age, after developing polio at the age of nine and spending a year in hospital, on an iron lung. Allen V. Farrow presents footage which shows her Connecticut family life as raucous, shambolic, and loving (both Soon-Yi and Moses have later alleged beatings, which the rest of the family denied). Her only regret is bringing Woody Allen into it.
As for Allen, the filmmakers run through his career – though not his family background – at a clip. Queasily disturbing facts come to light, or were they even hidden? A former "secret girlfriend" Christina Englehardt emerges to gives evidence. She was 17 years-old when she met him, but, let's face it, Manhattan starred the 42-year-old Allen having a sexual relationship with 17-year-old Mariel Hemingway. Nothing secret about that film, and nobody batted an eyelid. After all that took place, the powerful Allen went on working, while Farrow did not. Times were different, but the point of this documentary and Dylan's quest seems to be to make sure things change.
The filmmakers have gone to great pains to make sure the pundits they interview are mostly female. With the exception of one New York Times writer, though, none were ever Allen's great champions in print, nor are they programming his films today – San Sebastian opened only last year with the poorly-received Rifkin's Festival. A more challenging conversation with that festival's director, or the critics who still champion him, might have given this aspect of the documentary a bit more edge.
Ronan Farrow, champion of the #MeToo movement and a staunch defendant of his sister, says that Allen's financing of his own college education "was contingent on me speaking out against my mother and sister". If true, that seems as cold as Allen's telephone conversations with Mia sound. Larger-than-life scandals such as this, and documentaries where we are invited to make a judgement on people's lives, are always troubling when you realise that people in showbusiness are rarely how they work to so hard to appear. Finding Neverland is a case in point.
Dylan Farrow, though, is another story. And she will carry on telling it until people listen, and really hear her.
Production company: Jane Doe Films.
A HBO Documentary series by Kirby Dick, Amy Ziering, Amy Herdy.
Producers: Amy Herdy, Jamie Rogers
Directors: Kirby Dick, Amy Ziering
Editors: Mikaela Shwer, Parker Laramie, Sara Newens
Music: Michael Abels