High-CGI fantasy sequel sees trials and tribulations in the afterlife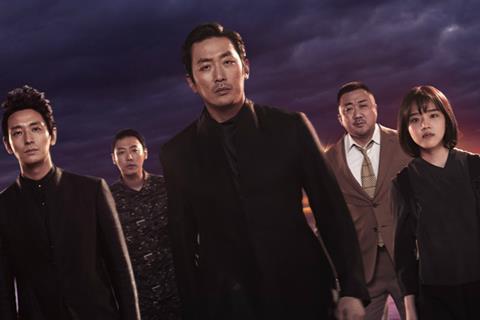 Dir/scr: Kim Yong-hwa. South Korea. 2018. 141mins
Kim Young-hwa's sequel to his gargantuan box office hit Along with the Gods: The Two Worlds (2017) is ambitious in both scope and scale, and utilises a cluttered but enjoyable narrative to accommodate the film's numerous characters and plotlines. Visually engaging for the most part, it is heavily reliant on VFX powerhouse Dexter Studios to deliver the film's fantasy-driven spectacle.
The countless characters and plot lines make it difficult for any of them to really stand out.
The film opened on August 1 in South Korea with a record 1.24 million admissions ($8.6m) on its first day and should continue to perform very strongly over the rest of the summer as it targets a wide demographic. The first film pulled in more than 14.4 million viewers ($102m) locally and, while it is uncertain whether the second instalment will surpass that figure, its commercial performance is somewhat predetermined following the success of its predecessor. In Asian territories such as Hong Kong and Taiwan, it should replicate the journey of the first film where it performed notably well.
Based on the immensely popular webcomic Along with the Gods (2010-12) by Joo Ho-min, the first film centres on a deceased firefighter taken to the afterlife by three archangels where he faces seven trials over 49 days to win his rebirth. In this second instalment, which begins where The Two Worlds concludes, the three guardians are promised by the Yeomra (Lee Jung-jae), king of the afterlife, their own reincarnations if they succeed in their next case following 48 successful ones.
The subject of this trial is Soo-hong (Kim Dong-wook) but, because his vengeful spirit caused havoc in the previous instalment, Yeomra will only allow a fair trial if Hae Won-maek (Ju Ji-hoon) and Deok-choon (Kim Hyang-gi) go down to the real world and bring back an elderly man who has surpassed his allocated lifespan. Meanwhile, in the afterlife the leader of the trio Gang-lim (Ha Jung-woo) can proceed with the trial for Soo-hung's reincarnation.
In what is an undeniably overstuffed and overlong script, Kim Yong-hwa (Mr. Go) seems to be less concerned with the plot's lack of focus than searching for opportunities for further films — though for many this doesn't mean it will be any less enjoyable. Emulating Hollywood films is nothing new in Korean cinema, but adopting the franchise formula illustrates how far the industry has come in a relatively short space of time.
The countless characters and plot lines make it difficult for any of them to really stand out. As such there is no central lead, despite the presence of some major names in Korean cinema such as Ha Jung-woo, Lee Jung-jae and Don Lee (aka Ma Dong-seok). Still, it's the ever reliable Don Lee (Train to Busan) who provides many of the film's more comical moments, while the cast as a whole are well-suited to their respective roles.
With extensive CGI depicting the afterlife together with moments of melodrama and its period settings, the film seeks to pull in all ages in Korea. Although at times, the special effects look clunky, some of the more ambitious set-pieces are impressive given how such a film produced in Hollywood would invariably require a more sizeable budget. (The two Along With The Gods films were shot simultaneously and cost a total of $36.6m to produce.)
Production Companies: Realies Pictures & Dexter Studios
International Sales: Lotte Entertainment (international@lotte.net)
Executive Producers: Cha Won-chun, Kim Yong-hwa
Producer: Won Doung-yeon
Cinematography: Kim Byung-seo
Production Design: Lee Mok-won
Editing: Kim Jino, Kim Hye-jin
Music: Bang Jun-suk
Main cast: Ha Jung-woo, Ju Ji-hoon, Kim Hyang-gi, Don Lee, Kim Dong-wook, Lee Jung-jae