Dir/Scr: Cho Chang-ho. South Korea. 2015. 90mins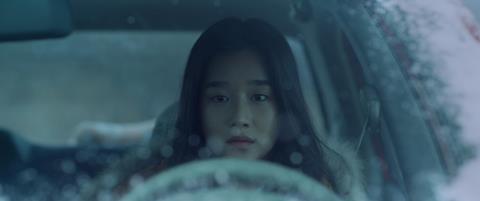 Tackling the issue of suicide, which remains such a problem for South Korean society, Cho Chang-ho's (The Peter Pan Formula) latest feature follows two young people as they set a date to end their lives. Although it suffers from a weak conclusion, Cho's beautifully shot feature, which is partly set in Chuncheon, Gangwon Province in Korea's Northeast in the bitterly cold month of February, is quite captivating.
Seo Yea-ji's nuanced performance demonstrates a significant amount of potential
Premiering in the Busan International Film Festival's Vision strand, Another Way should look for further festival exposure, helped by Cho's strong track record on the circuit (his feature debut The Peter Pan Formula competed at Sundance, was shown at the Berlinale Forum and won the jury award at Deauville, while his follow-up Lovers Vanished went to Karlovy Vary. Cho has also worked as an assistant director for Kim Ki-duk on films including Bad Guy.)
Another Way begins in a chatroom where two people are casually discussing suicide: where to do it, and how. They agree on a location and date: Chuncheon in the middle of February.
The film then follows Jeong-wan (Seo Yae-ji), a young woman who takes care of her sick mother at home. She is also a dancer for her father's company and is shown working tirelessly outside a new restaurant along with three other dancers in the freezing cold weather to entice customers to come in. It soon becomes clear the relationship with her father is a troubled one and she's quietly losing all hope.
Meanwhile, policeman Han Su-won (Kim Jae-wook), who witnessed his mother's death as a child, lets an intoxicated driver pass through a checkpoint after he pleaded with Su-won to let him go. The driver ends up hitting a man who won't survive. Su-won almost appears apathetic, but later asks in a Will recorded onto his phone that after his father's hospital's bills are paid, the remainder of his money be sent to the victim's family.
They both agree to meet in Chuncheon, but, not realising initially that they are suicide companions, spend a night together. The following day, they both seek to end their lives, but separately.
The film's icy setting, expertly shot by Lee Sung-jae, is a suitable backdrop for this somber story where all hope appears lost – at least until the couple finds some respite in each other. Even then, they can't seem to find a way out of their problems.
For international viewers, what's missing is some context. Korea has the highest suicide rate among OECD countries, which is one of the reasons why it crops up so often in Korean cinema, including Cho's The Peter Pan Formula.
From the acting perspective, Kim Jae-uck (Two Rooms, Two Nights - it's also premiering in Busan) is adequate as Su-won, but it's Seo Yea-ji (The Throne) who leaves a lasting impression. Her nuanced performance demonstrates a significant amount of potential.
Production Company: Mohn Pictures
World Sales: M-Line Distribution, jamie@mline-distribution.com
Producer: Noh Il-hwan
Screenplay: Cho Chang-ho
Cinematography: Lee Sung-jae
Production Design: Park Hye-jung
Editor: Bae Ye-eun
Music: Kim Myoung-jong
Main Cast: Kim Jae-wook, Seo Yae-ji, Kang Su-jin