Dir: Peyton Reed. US. 2015. 116mins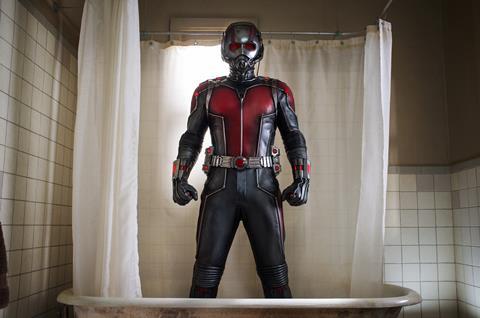 The best Marvel films balance action spectacle, irreverent humour and more than a smidgeon of heart, their execution so effortless that a viewer can take that tricky alchemy for granted. Ant-Man serves as a cautionary reminder that sometimes the mixture isn't so cohesive, this mediocre action-adventure only intermittently proving to be exciting, hilarious or touching — and never at the same time. Transitioning somewhat from the broad comedies that have made his name, Paul Rudd gives the reluctant titular hero a cheeky charm, but director Peyton Reed and a fleet of credited writers struggle to escape the shadow of Marvel's bigger, bolder, better comic book movies.
The brutal truth is that Ant-Man's ability to move small objects and command an ant army isn't all that compelling
Hitting several territories by July 17, including the UK and US, Ant-Man looks to be Marvel's biggest gamble to date. There are possible commercial obstacles in the film's way, including Rudd's lack of box-office clout and Ant-Man's low profile among general audience members, especially in comparison to the likes of Spider-Man or Iron Man. But also, production delays — namely the exit of original director Edgar Wright, who (at least on paper) seems like a more natural fit for superhero fare — have created industry concerns that Ant-Man won't come close to competing with the studio's stellar theatrical track record. The film won't be a financial disaster, but no one should expect grosses rivalling The Avengers, either.
Set in San Francisco, the film stars Rudd as Scott Lang, a Robin Hood-like burglar just released from prison after three years for stealing from corporate crooks. Divorced from his wife (Judy Greer) but hopelessly devoted to his young daughter (Abby Ryder Fortson), Scott is desperate for a legitimate job when he agrees to one last heist. Soon, however, Scott learns that the heist has been secretly orchestrated by Dr. Hank Pym (Michael Douglas), an aging scientist who wants the younger man to take up his mantle as Ant-Man, a superhero who (thanks to a special suit) can shrink down to the size of an insect.
It's easy to imagine how original director Wright (Scott Pilgrim Vs. The World, Hot Fuzz) would have approached this material, his trademark sarcastic streak easily mixing with high-energy action sequences. Wright left the project — he's still credited as one of the screenwriters and as an executive producer — and was replaced by Reed, whose résumé (Yes Man, The Break-Up) doesn't superficially suggest he'd be a perfect choice to take over the reins.
Alas, Ant-Man doesn't refute that initial suspicion. Reed's films have always had a breezy nonchalance, but neither his staging of action nor his juggling of tones is particularly inspired here. And with four credited screenwriters — including Rudd and frequent Will Ferrell collaborator Adam McKay — Ant-Man can't help but show signs of the purported development issues that slowed the film's path to production. One senses the movie's warring impulses, as moments of Scott agonizing over his separation from his little girl butt up awkwardly against the story's thriller elements, as well as limp flirtation scenes between Scott and Pym's strong-willed daughter Hope (Evangeline Lilly).
Perhaps recognizing that Ant-Man doesn't have the cultural cachet of a Thor or Iron Man, Ant-Man exudes a self-deprecating sense of humour, resulting in a film that feels more modest than the typical Marvel offering. (It's a sign of Ant-Man's recognition of its own diminutive stature that whenever the Avengers are referenced by the characters, those heroes are spoken about with an almost awed reverence.)
Throughout Rudd's career, he's often played impertinent jokers — a quality that, in theory, segues nicely to starring in a comic book movie in which the hero's powers are given to him by a suit he didn't even design. But the actor's fetching everyman quality doesn't add much when the script fails to provide him with a series of reliable one-liners. Jokey rather than funny, and a bit forced when it's trying to be sincere, Ant-Man has plenty of enthusiasm but not a lot of inspiration, Reed unable to conceive the film in such a way that it establishes its own niche in the big-screen Marvel landscape.
Still, there's an impressive ensemble for this second-tier material, especially Corey Stoll as Darren Cross, the evil head of a technology company once run by Pym. With his bald head and menacing stare, the actor pulls off the calm confidence of a megalomaniacal super-genius. Lilly is little more than a sourpuss love interest for Scott, occasionally mourning her dead mother to little effect. Her performance is indicative of a lot of the supporting cast: whether it's Michael Peña as Scott's loopy chum or Michael Douglas as a man determined not to let his innovative Ant-Man suit fall into the wrong hands, fully invested talents get bogged down in mediocre storytelling.
The effects work necessary to dramatise Scott's transformation into the miniscule Ant-Man is stellar. There can be pleasures in seeing the world from the perspective of an insect — water flowing from a tap suddenly looks terrifying — but the brutal truth is that Ant-Man's ability to move small objects and command an ant army isn't all that compelling. This superhero is meant to be a scrappy underdog — after all, who's terrified of a bug? — but Rudd's pedestrian portrayal of regular-guy Scott isn't enough to make us see the brave soul underneath the shrugging exterior.
From an action standpoint, Ant-Man takes a while to kick into high gear, with much of the film spent establishing Scott's character, introducing him to Pym and then learning the Ant-Man suit's powers. The third act ramps up the tension as these two men and Hope lead a small team to infiltrate Cross's stronghold to stop him from using his own shrink-ray technology. This leads to some clever set pieces, but even here Ant-Man pales in comparison to highlight sequences from Captain America: The Winter Soldier and the Avengers films. Marvel's winning streak has to end at some point, and even the underwhelming Ant-Man has its moments. Nonetheless, this is the first time that one of the studio's movies comes up short.
Production company: Marvel Studios
Worldwide distribution: Walt Disney Studios Motion Pictures, www.movies.disney.com
Producer: Kevin Feige
Executive producers: Louis D'Esposito, Alan Fine, Victoria Alonso, Michael Grillo, Stan Lee, Edgar Wright
Screenplay: Edgar Wright & Joe Cornish and Adam McKay & Paul Rudd, story by Edgar Wright & Joe Cornish
Cinematography: Russell Carpenter
Production design: Shepherd Frankel
Editors: Dan Lebental, Colby Parker, Jr.
Music: Christophe Beck
Website: www.marvel.com/antman
Main Cast: Paul Rudd, Evangeline Lilly, Corey Stoll, Bobby Cannavale, Michael Peña, Tip "T.I." Harris, Wood Harris, Judy Greer, David Dastmalchian, Michael Douglas