Dir. Maurice Dekkers, Netherlands, 2015, 88 minutes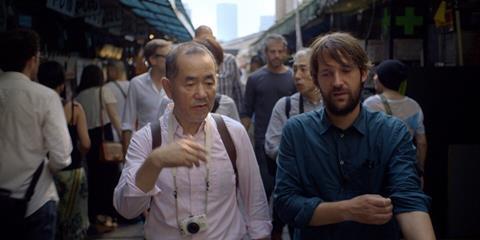 Ants on a shrimp is something that you eat, and it's just one of the oddities served when the super-restaurant NOMA moves from Copenhagen to Tokyo. This promotional culinary documentary tracks the bumpy relocation with star chef Rene Redzepi. Maurice Dekkers makes his feature debut on familiar territory for foodie audiences – a micro-managing cook setting up a huge challenge and struggling to meet it. This is the kind of mission that's launched a thousand Gordon Ramsay tantrums, although the anger decibel level never gets that high in Ants On A Shrimp.
Flavours that Redzepi likes tend to be "amazing," "totally amazing," or "fucking amazing."
Still, that food film marketplace is crowded, and Ants On A Shrimp, while in English, will have to fight in the US to seize exposure from Anthony Bourdain and the long loud parade of enterprising kitchen chroniclers. The doc may do better on television in Europe and Asia. Shelf-life for this food product is also a guess, since new faces and voices in the competitive culinary world are launching videos all the time. Dekkers's film follows a powerful brand, however. NOMA, established by Redzepi, was voted "World's Best Restaurant" in 2010, 2011, 2012 and 2014, no small distinction.
We never learn how much money the chef made there, or whether a fortune was earned for his investors. It is a business, after all. We join the drama when Redzepi has closed NOMA in Denmark, and made a deal to open in January 2015 at the Mandarin Oriental Hotel in Tokyo for 5 weeks.
It's a tight deadline, which leads us into the team of NOMA, who drop everything to journey from Denmark to infuse a NOMA cuisine with Japanese characteristics. There's a cultish feel to this ensemble, mostly men, who devote their waking hours to kitchen work for a guru. Redzepi's pronouncements on food are expressed more in dude-talk than in new age nostrums. Flavours that he likes tend to be "amazing," "totally amazing," or "fucking amazing."
We're left to conclude that this much-praised cook expresses himself better on the plate than in language – which doesn't stop him from talking. Any reputed kitchen wrath has been muted in Dekkers's editing.
Yet the camera does get close to the food here. We walk through the Nagano forest with Redzepi's team as they forage for local leaves and herbs that might give dishes distinctive flavours. Turtle is another one of those flavours, and we witness a lesson in how to kill a snapping turtle – deeply unappetizing for anyone who might see those small animals as something more than one of 14 food courses at NOMA.
Ants On A Shrimp can come across like a feature-length infomercial for Redzepi and his NOMA brand, yet Dekkers still manages to get your mouth watering. The aged duck (in a glaze of reduced rye-bread water and mushroom water), served without any elaborate garnish, looks like a dish that's worth travelling and paying for. Deep-fried fish sperm – "it's better than the fish," Redzepi declares – might be for more adventurous palettes, but exclusivity means that this chef, like this film, doesn't have to please everybody.
Production companies: BlazHoffski / Dahl TV
Producers: Dan Blazer, Nelsje Musch-Elzinga
Executive producers: Marc Blazer & Maurice Dekkers
International sales: Fortissimo Films info@fortissimo.nl
Screenwriter: Maurice Dekkers
Cinematography: Hans Bouma
Sound: Jillis Schriel
Editor: Pelle Asselbergs
Music: Nicolas Jaar/HalfdanE/Shigeru Umebayashi