The story of one woman and two men who look exactly alike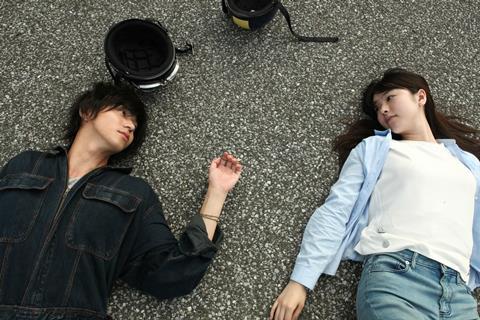 Dir. Ryusuke Hamaguchi. Japan/France/Germany/Switzerland. 2018. 119 mins.
After making several features, Japanese director Ryusuke Hamaguchi struck gold, reputation-wise, with the much-admired five-hour-plus Happy Hour (2015), a finely-controlled, richly-sketched multi-stranded drama that more than merited its unusual running time. Admirers of that film will find him working in a very different vein in Asako I & II, to markedly less rewarding effect.
What's at issue here is really a simple story of the difficulty of choosing between glittering fantasy and tangible if sometimes dull reality
Spinning out an intriguing premise that never pays off the dividends it promises, this is a female-led torn-between-two-lovers story in which the lovers happen to be the spitting image of each other. Built around lead performances by Erika Karata and Masahiro Higashi, the latter in twin roles, Asako I & II is a coolly-executed but emotionally numb exercise, and its somewhat traditionally demure heroine seems unlilkely to play to contemporary international tastes in dramatic heroines.
Karata plays Asako, a shy, delicately beautiful young woman living in Osaka who, walking through town one day, has a love-at-first-sight experience – complete with exploding firecrackers – when she meets Baku (actor/model Higashi), a devilishly handsome young dude. Despite the warnings of her friend Haruyo (Saira Ito), Asako starts a wildly romantic relationship with tender but supposedly dangerous Baku: the couple are so in love that they can't stop kissing even when they're lying in the road after a traffic accident.
But one day, Baku suddenly vanishes without explanation. Two years on, Asako is working in a café in Tokyo when she encounters Ryohei, a strait-laced young executive in a sake company – and is amazed to realise that he is Baku's doppelganger. Despite the differences in personality, Ryohei's looks are enough to hook Asako, and the two form a relationship. There's a hiccup when Asako tells him things aren't working out, but after a bizarre interlude - an earthquake takes place in pitch darkness while Ryohei is at the theatre watching Ibsen's The Wild Duck – Asako turns up to say it's all on again. Five years later, she and Ryohei are happily, if somewhat stolidly, cohabiting, and sharing such pleasures as volunteering at a charity fish market. Then Haruyo arrives and tells Asako something that she surprisingly doesn't already know – that Baku has suddenly become a famous model and TV star. Asako promptly switches back to lovestruck mode…
Ostensibly outré as the premise is, Hamaguchi never infuses the drama with overt oddness – that theatre moment notwithstanding - making it clear that what's at issue here is really a simple story of the difficulty of choosing between glittering fantasy and tangible if sometimes dull reality.
While Higashi proves adept at embodying both extremes, Karata proves a rather insipid centre to the film, not just because of the actress's bland pertness but because of the passivity of the character, who allows herself to be carried away on the tides of desire but never really makes a decisive act until the very end. What's more, Yasuyuki Sasaki's cinematography, foregrounding clean framing and desaturated colours (with emphasis on creams, beiges and yellows, especially at the start) makes for an altogether detached viewing experience, rendering Asako I & II barely more resonant than a well-sheened lifestyle movie.
Production companies: Nagoya Broadcasting Network, Bitters End, Vap, Nippan, The Asahi Shimbun, Hyogo Bender Engineering, Elephant House, Comme Des Cinémas, C&I Entertainment
International sales: MK2 Films, juliette.schrameck@mk2.com
Producers: Yuji Sadai, Teruhisa Yamamoto, Yasuhiko Hattori
Screenplay: Sachiko Tanaka, Ryusuke Hamaguchi, based on the novel by Tomoka Shibasaki
Cinematography: Yasuyuki Sasaki
Editor: Azusa Yamazaki
Production design: Masato Nunobe 

Music: Tofubeats

Main cast: Masahiro Higashi, Erika Karata, Koji Seto, Rio Yamashita, Sairi Ito